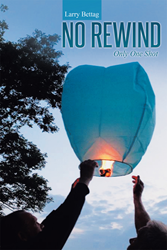 I want to live my life with no regrets.
ST. CHARLES, Ill. (PRWEB) April 29, 2014
Play. Fast forward. Stop. No rewind. That's the way life goes, according to Larry Bettag.
The author uses his academic background and life experience to explain life's lessons in a modern and relatable way in his new book, "No Rewind: Only One Shot."
The jack-of-all-trades—vice president of a mortgage company, licensed clinical psychologist, real estate attorney, husband and father—understands a busy schedule, but urges readers to remember that they only get to do this life one time around.
"No Rewind" is an unconventional look at redirecting the course of one's life. Using anecdotes from his own life and the lives of others, Bettag encourages readers who feel stuck in a rut to wake up, use the gifts they have been given and ultimately find a sense of fulfillment.
One of Bettag's inspirations for the book was Elizabeth Kubler Ross' book "On Death and Dying," which explains the woman's study of people who died and were brought back to life through resuscitation.
"One-third of them had the same experience. God replayed their life in its entirety—every second from birth until death—but then replayed it again, saying to each one, 'This is how I intended for you to live it,'" Bettag explained.
"Every single person who had that experience wished that they had lived the life that God had intended. Even if there is only a fraction of a percentage of this being true, I want to live my life with no regrets."
No Rewind
By Larry Bettag
ISBN (e-book): ISBN 978-1490826745
ISBN (softcover): ISBN 978-1490826745
Available for purchase at Amazon, Barnes and Noble and WestBow Press online bookstores.
About the author
A married father of five, Larry Bettag is no stranger to a fast-paced lifestyle. He serves as regional vice president of a national mortgage company, but also works part-time as a real estate attorney. Additionally, he has a master's degree in clinical psychology and has worked as a professional business coach. "No Rewind" is his first book.
# # #
**FOR IMMEDIATE RELEASE**
EDITORS: For review copies or interview requests, contact:
Courtney Alvey | 317.602.7137 | calvey(at)bohlsengroup(dot)com
(When requesting a review copy, please provide street address.)