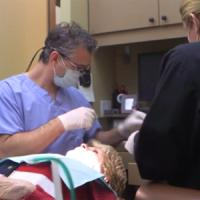 It's a great way to build trust and rapport with people before they set foot in the door.
Anacortes, WA (PRWEB) April 29, 2014
Dentists have a new option in their marketing arsenal thanks to Productive Dentist Academy, one of the fastest growing private businesses in the nation. The dental management consulting firm and marketing team has begun filming videos on behalf of dentists to attract new customers and personalize their offices, staff, and work.
"It's a great way to build trust and rapport with people before they set foot in the door," said Vicki McManus, CEO and co-founder of The Academy.
Members of the Academy, once hired, fly out to the dentist's location to film and personalize videos according to each business' needs (a full day of shooting at one office location). Footage is then edited and dubbed to create a feature videos similar to this one (click here).
Each video package includes a one- to two-minute feature video on the dental practice offering beautiful footage of the office's lobby, front desk, and operatories, and up to two bonus videos highlighting whatever subject matter the dentist wishes. The feature video, in addition to being effective for use as a television commercial and for posting on a Web site, Facebook, and YouTube, showcases the team and doctor interacting with patients, and includes interview footage of the doctor telling viewers what to expect during a visit. Bonus videos are shorter, 30 to 60 seconds in length, and can be used to enhance Web sites and social media by providing video testimonials, meet-the-staff interviews, a doctor's intro, an explanation of a specific dental procedure, or anything else a particular doctor wants.
To see other marketing tools available through the Academy and to learn more about the new video package, click here.
To read more about Productive Dentist Academy, go to http://new.productivedentist.com/.
About Productive Dentist Academy:
Named one of America's fastest-growing private companies by Inc. Magazine in 2012 and 2013, Productive Dentist Academy got its start in 2004 and has since gone on to provide dental marketing, consulting services, and production-enhancing seminars nationwide. It is based in Washington State and consists of a team of consultants in the areas of business development, hygiene, public relations, dental marketing, insurance/PPO negotiation, and other major fields of dentistry. Consultants from the academy help dental practices countrywide execute agreed-upon plans to increase their productivity, profitability, team building, service mix, hygiene department development, and more; they also help mid-career dentists begin the process of preparing their practices for future transition. To date, more than 1,200 practices have benefited from the resources and courses of the Academy, a number that continues to grow. The Academy is owned by Dr. Bruce B. Baird (Founder and President) and Vicki McManus (Co-Founder and CEO).