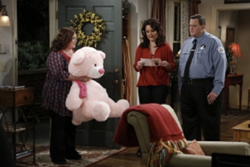 It's always fun to see our bears on hit TV shows. We were glad to have Lulu Shags be part of CBS's "Mike & Molly" and she'll get a star on our growing Giant Teddy Bear Paw Walk of Fame. - CEO Ray Khosravi
Anaheim, CA (PRWEB) May 06, 2014
Monday night's episode of CBS's "Mike & Molly" featured an enormous four foot pink teddy bear rolling around on the floor with Molly (Melissa McCarthy) as she attempted to stifle the bear's love song by laying on it, attacking it and finally pulling all the fluff out.
The Molly-on-bear violence began when the bear was delivered as a gift to Molly's sister Victoria (Katy Mixon) from Carl (Reno Wilson) after they spent the night together in Mike's (Billy Gardell) and Molly's home the previous evening. Mike and Molly both feared that Carl would take things too seriously but that Victoria wasn't serious at all, and the arrival of the giant pink teddy bear confirmed their fears were correct.
Asked about the scene with Melissa McCarthy (Molly Flynn) Giant Teddy CEO Ray Kohsravi said, "Our bears are all great sports and don't mind doing some stunt work now and then. We normally prefer to see them loved and hugged but Lulu Shags was a very happy bear co-star being on camera with Melissa McCarthy and the rest of the talented cast."
Bears from Giant Teddy have appeared on ABC's "Modern Family," CBS's "Big Brother," the WB's "The Carrie Diaries," and a Mythbusters spinoff special.
Giant Teddy makes bears in sizes from 2 to 6 feet tall including personalized and holiday styles and colors. For more information about the company or to purchase the bear seen on "Mike & Molly" (Giant Teddy bears do not play music as shown on the episode) visit the company's website or one of their social media pages on Facebook, Twitter, Pinterest or Google+.