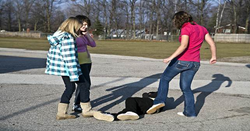 Jim Dillon draws on his experience in running schools to give us valuable insights on how schools are implementing anti bullying policies.
London, UK (PRWEB) April 29, 2014
What are the essential Anti Bullying Policies and how to push schools for more firm anti bullying policies all are questions that need definitive answers. NoBullying releases today an exclusive interview with Jim Dillon on Anti Bullying Policies.
In This interview, NoBullying.com Founder Ciaran Connolly talks to Jim Dillon on all things related to Anti Bullying Policies. Jim Dillon is an educational consultant specializing in leadership and school bullying. He has been an elementary principal in one school for 17 years and a total of 20 years as a school administrator. Prior to that, Jim Dillon also worked as a special education teacher.
On whether schools are integrating social media safety in their anti bullying policies, Dillon said "there is such decentralization that the policies really vary. I think there are some progressive schools that have embraced technology and use cell phones and social media. There are some really. I am aware of some principals who make use of Twitter and Facebook and integrate it in their teaching and learning but there are other schools where it's almost even banned and kids can't even touch the stuff. So, I would advocate it is better to work with technology with kids and integrate responsible use right into your classroom instruction"
When it comes to schools implementing the right anti bullying policies, Jim Dillon says "It is becoming more command and control with a lot of tightening of regulations and a lot of penalties put into place which then decreases the amount of creative problem-solving that is happening. So, I do think it is difficult for school leaders and there is not a lot of resources out there that really give them some guidelines on how to start to change and shape the culture differently. It is a little easier to figure out how to make everything run smoothly; it is little bit harder to figure out how do I improve the culture of my school. There is a need to really provide a lot more support to principals on change strategies."
Macartan Mulligan, Co-Founder of NoBullying.com, said "Jim Dillon draws on his experience in running schools to give us valuable insights on how schools are implementing anti bullying policies."
He added that parents and teachers should make a point to educate the younger generations about the sad outcome of bullying online and offline. According to Mulligan, it is quite imperative to press for more firm laws condemning all acts of bullying and harassment.
NoBullying.com features many pages dedicated to parents, teens, teachers, health professionals as well as posts related to cyber safety for kids and the latest news about law making concerning curbing Bullying worldwide as well as inspirational Bullying Poems and famous Bullying Quotes.
The website regularly updates its bullying statistics and cyber bullying statistics as it is essential to understand how widespread the bullying epidemic is. It also regularly runs cyber bullying surveys and questionnaires to get recent updated statistics on everything related to cyberbullying.
He also added that anyone suffering from bullying in any form or way can always find advice and help on the NoBullying website – but if anyone is suffering from severe bullying or cyber bullying, the best thing is to talk to someone locally – a parent, teacher or local organization that has been set up to help with specialized councilors to deal with this topic.