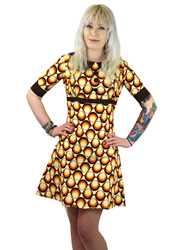 As spring gets into full bloom and summer approaches, the key look for your wardrobe... is a fabulous vintage inspired printed dress.
Scarborough, North Yorkshire (PRWEB UK) 30 April 2014
As spring gets into full bloom and summer approaches, the key look for your wardrobe according to online retro fashion retailer, Atom Retro is a fabulous vintage inspired printed dress.
Lindsey Hagston, womenswear buyer at Atom Retro says: "Whether it be a sixties mod inspired shift dress, an all occasion tea dress or a simple yet striking fitted A-line dress, the look is definitely going towards prints. The trend seems to be falling into two camps - bold statement prints such as psychedelic paisleys and big and bold geometric retro patterns or more vintage inspired, detailed all over prints in ditsy florals or retro and indie inspired patterns."
Nature and the floral/fauna theme plays a key part in many of the prints whether it be in the form of woodland animals, mans best friend or vivacious floral patterns with several designs amalgamating a variation of different subjects to create a truly unique and visual one of a kind print.
"Madcap England traditionally experiment with bold geometric shapes, fusing 1960s dress styles with 1970s bold geometric shirting prints," Lindsey explained. "The new Freak Out! Op Art circle print dress has just arrived in stock and is a great example of a retro statement print dress. It's a 1960s style mod dress with Peter Pan collar, and the bold retro inspired print pattern makes it bang on trend for this summer."
Vintage inspired American dresses brand, Bettie Page is also utilising statement floral prints with the 'Shirlee' 1950s Vintage Halterneck dress being a key piece of the collection. "This is a fabulous summer dress for someone who wants to really create a stir," Lindsey says. "Its a 1950s inspired flared circle dress with a statement purple roses print. It's ideal for summer proms, parties or weddings."
These vivid prints aren't necessarily aimed at vintage and vetro fashion connoisseurs, but are suitable for everyday wear wit contemporary looks drawing on nostalgic themes to create refreshing garments that are ideal for the Summer Season.
"Whilst there is an underlying vintage theme to many of the styles we offer, these retro styles are very versatile and many can work for any occasion whether it be work or play," says Lindsey.
Some prints are timeless and will stand up well in a wardrobe for years. Whether it be simple polkadot designs to more extrovert paisleys, a printed dress never fails to offer something that little bit different. Atom Retro's dresses collection can be viewed online here.
About Atom Retro:
Atom Retro is a UK leading clothing retailer, boasting the largest range of authentic, high quality retro and mod clothing for men and women online. The Atom Retro range is inspired by the Carnaby Street boutiques of the sixties and includes an ever growing list of iconic brands and original, independent designers. Browse Atom Retro's extensive range of retro and mod clothing at http://www.atomretro.com.