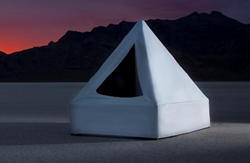 "Floating is the best you'll ever feel - your senses come alive, your body feels better, and your thoughts get more clarity - and everyone in our industry wants more people to be able to have that experience." - Shane Stott, Zen Float Co.
Salt Lake City, Utah (PRWEB) April 29, 2014
* Trend: Floating Growing Rapidly in Last 2 Years

1/3 Price of Closest Competitor
Company Featured in Floating Documentary
Fully Operational Prototype
Kickstarter Launches April 29, 2014: http://bit.ly/zenfloat
Some see it as a way to get high without taking drugs. Others credit it with taking away chronic pain. Many swear it's the only way to totally relax.
Thanks to the wide appeal, floating has been taking off in recent years. But fans had only two painful choices: pay at least $4,500 for an at-home tank, or drive to a float center and pay $50/hr, accessible only at inconvenient times.
Now, with Zen Float Company, float enthusiasts can float at home for less than they'd pay a float center, and with total privacy.
Unlike many Kickstarter projects, Zen Float has been refreshingly prudent in launching their campaign, waiting until they had a perfectly-working prototype to launch. Because they have gone through such a rigorous testing period, as soon as funding is complete, manufacturing will be triggered on the first run, and they will be delivered this summer.
ABOUT ZEN FLOAT CO
Zen Float Co is based out of Salt Lake City, Utah, and it's run by a trio of float enthusiasts and manufacturing experts. William Hill handles production for a number of other product lines, which are similarly sized and priced, and sell extremely well. Brothers Shane and Sean Stott run a family business that has enjoyed an excellent reputation for decades, and are hopeful that Kickstarter will make this first product run possible.
We have a wide range of photos available upon request.