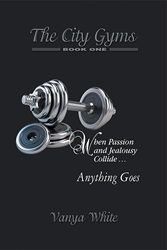 (PRWEB) April 29, 2014
And Anything Goes when it comes to passion, jealousy, and obsession in this romance that breaks all the rules. See what happens when stunning gym manager Maria White first meets Dr Danny Rock, the driven and obsessive billionaire owner of DR Corporation.
The doctor invites her to his chateau for an interview and the sparks fly. The brilliant businessman falls for Maria the moment he sees her, and is determined to marry her no matter what. Maria has always put her career first, never making time for a serious relationship. But the minute she sets eyes on Dr Rock, she too knows there is no going back. He warns Maria on their first date about his intentions and that he always gets what he wants.
But what happens when Maria's boss becomes a rival for her affections? When Passion and Jealousy Collide, watch out!
Watch the video at: https://www.youtube.com/watch?v=s3Oj5bdNdCI.
THE CITY GYMS: WHEN PASSION AND JEALOUSY COLLIDE … ANYTHING GOES, BOOK ONE (ISBN: 978-1-62857-878-2) is now available for $17.95 and can be ordered through the publisher's website:
http://sbprabooks.com/VanyaWhite or at www(dot)amazon(dot)com or www(dot)barnesandnoble(dot)com.
WHOLESALERS: This book is distributed by Ingram Books and other wholesale distributors. Contact your representative with the ISBN for purchase. Wholesale purchase for retailers, universities, libraries, and other organizations is also available through the publisher; please email bookorder(at)aeg-online-store(dot)com.
About the Author: Vanya White studied psychology and creative writing at Edge Hill University, and mental health nursing at John Moores University in Liverpool. The mother of one lives with her husband in Southport, England. This is her first novel and it is part of a trilogy.
Strategic Book Publishing and Rights Co, LLC