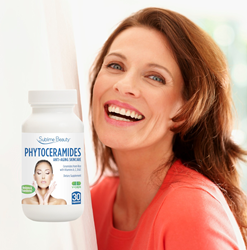 The most exciting anti-aging tool to come along in years is here: Sublme Beauty Phytoceramides. The Dr. Oz show recently said you can fake a facelift by taking these natural capsules daily.
St. Petersburg, FL (PRWEB) April 28, 2014
Sublime Beauty® announces new Phytoceramides have now joined the anti-aging product line.
"We believe the skin strategy should work from both the inside-out and outside-in," says Kathy Heshelow, founder of Sublime Beauty®. "Phytoceramides are so exciting in that they dramatically improve skin from the cellular level naturally."
The FDA recently approved Phytoceramides as a dietary supplement. They have long been used in Japan and Europe.
The superior Rice-derived type of Phytoceramides are offered by Sublime Beauty®; they outperform Wheat-derived (gluten) and other types of Phytoceramides by 35%.
The new website goes into more details, and the free guide "Easy 6 Steps to Enhance Phytoceramides" is available. "Our skincare products improve skin from the outside in, and now this can be enhanced with Phytoceramides," says Heshelow.
A limited-time offer of 30% off the purchase of 2 bottles or more of Sublime Phytoceramides is available with coupon code 30PHYTOC at either SublimeBeautyShop or on Amazon.
ABOUT: Sublime Beauty® is a quality skincare company that focuses on products to "Age Younger". Products help to boost collagen, hydrate, relax wrinkles and improve skin. A niche includes healthy Skin Brushes. The company webstore offers free standard shipping and a VIP Club. Products also available on Amazon.