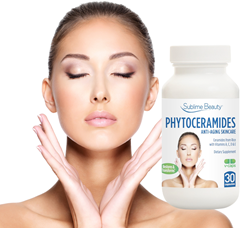 "Aging Younger" at Sublime Beauty has added a new winning strategy for clients: Phytoceramides.
Seminole, FL (PRWEB) May 01, 2014
"Aging Younger" at Sublime Beauty® has just added a new winning strategy: Phytoceramides.
Sublime Beauty® clients can go to the next level of anti-aging skin care with this natural product.
Phytoceramides are natural plant-based ceramides (identical to human ceramides) that replenish the supply in aging skin. Ceramides make up 40% of younger skin, crucial for moisture-retention, plumpness and barrier protection. They diminish with age like collagen, and this is a major contributing factor to wrinkles, lines, thinning and sagging of skin.
"We offer a 6 page brochure to get you educated about the important facts," says Kathy Heshelow, founder of Sublime Beauty®. "You can sign up here (which also gets you our secret deal information monthly), or download it from the Phytoceramide product page."
A limited-time offer of 30% off the purchase of 2 bottles or more is available on both Amazon and the company webstore, SublimeBeautyShop, which offers free standard shipping. Use Coupon Code 30PHYTOC at either store.
About:
Sublime Beauty® is a quality skincare company that focuses on products to "Age Younger". Products help to boost collagen, hydrate, relax wrinkles and improve skin. A niche includes healthy Skin Brushes. The company webstore offers free standard shipping and a VIP Club. Products also available on Amazon.