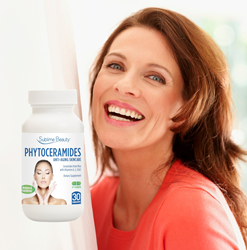 "Age Younger" with Sublime Beauty® Phytoceramides, being called the new fountain of youth.
St. Petersburg, FL (PRWEB) April 30, 2014
Phytoceramides are being called the new "fountain of youth". Learn more about what they are and what they do in a free 6 page report from Sublime Beauty®.
"We offer our clients many educational brochures about our products," says Kathy Heshelow, founder of Sublime Beauty®. "Many like to know about the ingredients, history, caveats and other information - and we agree this is important."
Sublime Beauty® is an anti-aging skincare company whose theme is "Aging Younger". Products focus on replenishing what is lost with age and time, such as collagen, hydration, lengthening cell life to bring back radiance and healthy skin.
Phytoceramides are a perfect fit for an overall skincare strategy, working from the inside out to replenish diminishing ceramides in skin. Ceramides are responsible for moisture-retention, plumpness and protection of skin (and collagen) and make up 40% of our skin when we are young.
Sublime Phytoceramides are the superior rice-based type (Oryza), which beat wheat-based and other types in clinical tests - by 35%. The capsules are vitamin fortified with important antioxidants for skin as well (Vitamins A, C, D and E).
A limited time discount of 30% is offered with purchase of 2 or more bottles. The code is found in the brochure, and can be used at Amazon or SublimeBeautyShop, the company webstore.
A bonus for those interested is the Easy 6 Step System to Enhance Photoceramides, a guide for optimal results.
About:
Sublime Beauty® is a quality skincare company that focuses on products to "Age Younger". A niche includes healthy Skin Brushes. The company webstore offers free standard shipping and a VIP Club. Products also available on Amazon.