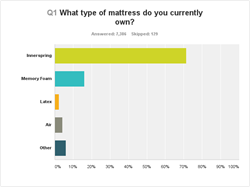 54.42% of the survey participants do feel their partner's movements throughout the night
Thousand Oaks, CA (PRWEB) April 28, 2014
Dr. Rick Swartzburg, D.C., V.P. of product development for Relief-Mart, Inc. and owner of the informational site MemoryFoamMattress.org, just released the results of the site's most recent mattress shopper survey. The survey was offered through the memoryfoammattress.org site, but hosted by SurveyMonkey. 7,385 shoppers completed most of the 5 question survey addressing some of the issues that may have lead them to seek a memory foam mattress.
According to the survey, 71.42% of these shoppers currently own an innerspring mattress. The survey sought to figure out how much of the prospective memory foam mattress shoppers were considering purchasing a new one due to reasons such as their current mattress allowing them to feel their partner's movements throughout the night, causing them pain and/or it feeling too hot. According to the survey, 54.42% of the survey participants do feel their partner's movements throughout the night. According to Dr. Swartzburg, this concern seems consistent with today's mattress shoppers. "As more research continues to show the importance of deep sleep, feeling of your partner's movements throughout the night has become a real concern, since that is one way to shift your sleep stage all the way from the most restful and deep stages back to the lightest first stage," states Dr. Swartzburg. Fortunately, memory foam mattress reviews have shown that memory foam mattresses been proven to optimally dampen mattress motion from one partner to another, especially when a solid foundation is used underneath the mattress.
The survey also cites that the 47.24% respondents currently have issues with excessive mattress heat. While consumers often cite the concern of memory foam mattresses being too hot, with the majority of respondents being users of innerspring mattresses (only 16.13% are memory foam mattress owners), it is apparent that excessive heat from a mattress is a concern with all mattress types. Dr. Swartzburg noted this concern many years ago and it was this exact concern that prompted the development of his patented Airflow Transfer System for reducing heat build-up in foam containing mattresses used in designs for the Selectabed and Tempflow mattress lines.
The survey also reveals that 70.10 percent of mattress shoppers currently experience back pain from their current mattress and that many of them also have shoulder, neck, hip and knee pain, as well as general stiffness.
The good news for mattress dealers is that nearly half of these shoppers (48.62%) are wiling to spend over $1,000 for a new mattress, but only if they feel that the new mattress will help them sleep perfectly. Sleep perfection may be difficult to achieve, but according to Dr. Swartzburg, most shoppers will likely still make the purchase if their level of confidence in product is high and the risk of dissatisfaction is low. "I think it is very important to understand what you are really buying and what are the options if you are not totally satisfied," adds Dr. Swartzburg. That may be why Dr. Swartzburg originally came out with the MemoryFoamMattress.org site and why he still opts to dispense advice to shoppers whether they are looking at a product he has created or one that he has no vested interest in. "My fist goal has been and always will be to use my knowledge to help shoppers find the best solution for their needs and hopefully surveys like this one give some additional insight for both the consumer and the mattress industry alike."
About MemoryFoamMattress.org
Dr. Rick Swartzburg, D.C. has authored the #1 Back Pain Site, an online information guide for back pain sufferers. Treating a variety of patients in a family practice setting, has enabled them to provide online information with a wide range of proven techniques that have been shown to help people who suffer with back pain and how to find the correct product to help their individual needs. Since 2001, Dr. Swartzburg has also consulted for various mattress companies and has used that experience to head up product development at Relief-Mart, Inc. and Selectabed in Westlake Village, CA. Despite being kept so busy over the years, Dr. Swartzburg gladly makes time to answer any questions that readers of this website may have regarding memory foam or any mattress they have interest in, even if it takes further research on his behalf to disseminate and convey an accurate assessment to help the reader in their buying decision process.