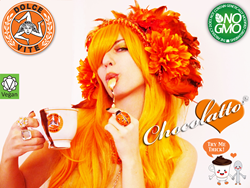 Dolce Vite Chocolatto® Live Action videos explain the new trend of thick Italian hot chocolate!
New York, NY (PRWEB) April 29, 2014
Dolce Vite Chocolatto® presents Live Action videos. Have you wondered why regular hot chocolate is so bland, too sweet, and generally not something appealing to consume? Look no further, Dolce Vite Chocolatto® Live Action videos explain the new trend of thick Italian hot chocolate. Revered by the Europeans for centuries, Chocolatto® is finally in the U.S. A low calorie dessert, under 200 calories, and new studies are revealing the health benefits of Chocolatto®.
Watch "Sexy Spoon Man" make Chocolatto® Orange, a delicious recipe of Chocolatto® made with fresh orange juice and orange rinds, topped with whipped cream: http://youtu.be/E6hx4K1Pogc.
The founder Christina Summers explains the difference of Chocolatto®, world's best Thick Italian hot chocolate, to regular hot chocolate: http://youtu.be/vxBwVn8Pwoo.
Artist Zoey Sirinsky makes "Delicious Art" with Chocolatto® on the Highline in New York City: http://youtu.be/uoF4ZH2FXVc.
Dolce Vite Chocolatto®, Stay Forever Young.
About Dolce Vite® LLC
Dolce Vite® is based in Brooklyn, NY and founded by modern day flower child Christina Summers dressing 24/7 in head-to-toe bright orange topped with a floral headpiece, driving an orange polka dotted Mercedes. Dolce Vite® adheres to the principles of the clean-food diet, promoting No-GMOs, No preservatives, and No artificial ingredients. Christina's passion for food took her to Italy where she fell in love with Chocolatto® and made it her mission for everyone in America to enjoy the true thick hot chocolate experience… with a spoon.
Find out more at dolceviteforeveryoung.com and facebook.com/DrinkDolceVite and twitter.com/DrinkDolceVite and youtube.com/DolceViteNYC.
Chocolatto® Thick Creamy Dark Italian Hot Chocolate Recipes can be found at dolceviteforeveryoung.com/pages/chocolatto-recipes.
Restaurants and cafés interested in delighting their customers with Chocolatto®, the newest Italian sensation please email sales(at)dolceviteforeveryoung(dot)com or call 917-50-DOLCE (36523).