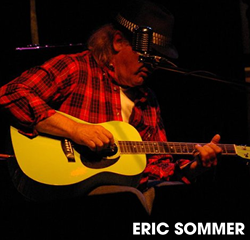 He just gets better and better... and even the Gods of Rock are watching over him!- Jimmy Rangier - Newport, RI
Austin, Texas (PRWEB) May 20, 2014
What do you do when you've used up your nine lives?
Get a new cat, according to roots Americana rocker Eric Sommer.
And that's what this nationally touring Americana singer, song crafter and guitar player has done. After surviving a terrible car wreck on Rt. 40 north of Nashville on January 30th, Mr. Sommer was back on the tour schedule after 60 days in a hotel room where mind-over-matter medicine worked its magic and got this troubadour a new cat.
Now somewhat recovered, but not fully repaired, Eric brings his stage show consisting of 6-8 guitars, a few vintage amps and a pocketful of songs, stories and monologues to Cicero's in St. Louis on June 4th. Cicero's is located at 6691 Delmar Blvd, St Louis, MO 63130 and can be reached at (314) 862-0009.
The new crop of songs reflect a variety of themes, some melancholy, some gritty, and some more politically focused, lamenting truth and honesty as major "lost values" among the current Washington cast of characters. There are quite a few songs that appear as odd, cast off rough diamonds, found in the back lot of a Hollywood set, abandoned years ago and recently discovered by fluke, or the flip of a coin.
Eric Sommer is in the area for a few shows - June 4th finds him at Cicero's in St. Louis, June 5th finds him in Edwardsville, IL at The Stagger Inn, on June 6th Mr. Sommer appears at Max's Place in Bloomington, IL and then on Sunday the Black Bear Bakery on Cherokee Avenue will host Mr. Sommer on it's Saturday afternoon series.
With open tunings, slide guitar, lap-slap tone guitar and a remarkably aggressive fingering style approach, watching Eric Sommer will make you jump out of your seat and holler for joy! There are very few players who have maintained this authentic American style of guitar, and Eric Sommer is one of the very best.
For music samples, please visit Eric Sommer online for additional schedules or contact him at eric(at)ericsommer(dot)com or call 202-255-1995. Additionally, you can find Eric Sommer on Facebook, too. RAINY DAY KARMA is also available on iTunes and CDBaby.
Eric Sommer is represented by Clyde is Thinking, and PR programs are managed thru MTG/NY. For more information, promo/appearance requests or to set up an interview, please contact Tom Monihan 202-255-1995.