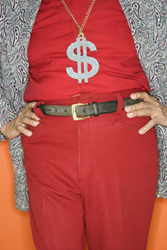 (PRWEB) April 28, 2014
With a number of online dating sites promoting the match up of students and young adults with those who fit the sugar daddy concept, Tellwut's online survey site polled their online panelists to find out their opinion regarding these dating websites that seek to match up young adults with those with wealth. 30% of decided voters stated that online dating websites that permit individuals to date for money is not immoral, revealing a growing acceptance to this type of online dating site. As well, 30% felt that it was not problematic that some students are utilizing these websites to help fund their education, with the acceptance rising to 39% for the 18 to 34 age group.
It's the "Pretty Women" movie storyline where college students/young adults date sugar daddies; providing these dates company by going on dates with them and accompanying them to events. Although the conditions on these websites outline that sexual activity is not required when dating, it cannot be assumed that some of these individuals will not be participating in sexual activities. 15% of online panel members would consider signing up for one of these websites if sex was not involved; with the acceptance rate rising to 22% for the 18-34 year old age group.
Panel members were asked whether they considered these online dating "sugar daddy" type websites to be a form of prostitution. Online survey results indicated that 32% viewed it as prostitution if sex was involved, 46% viewed it as prostitution even if sex was not involved, while 22% did not consider it to be prostitution.
When asked whether panel members found it problematic that college students were seeking dating websites in order to fund their education, surveys results revealed that 70% of voters felt this to be problematic, while 30% did not view this to be an issue. Surprisingly only 61% on the 18-34 year old group felt this to be a problem showing the growing acceptance of these types of sites and use of these types of sites to assist with match-ups that might lead to assistance in funding costs like education. Is this tactical reality or looking for love?
About Tellwut®
Tellwut is a North American online community of individuals dedicated to expressing their opinions through online surveys based upon a wide variety of topics in exchange for rewards and the Tellwut community experience. The Tellwut community and proprietary online survey and reward software application provide a platform for organizations to send surveys to their stakeholders or to crowdsource and conduct online market research through the use of the Tellwut survey platform and the Tellwut Community; thus allowing businesses a clearer understanding and insight into their products or services, customer sentiment and potential business opportunities.