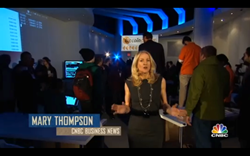 The bitcoin faithful, though, have no doubt. Bitcoin, they say, is here to stay.
NEW YORK, NY (PRWEB) April 28, 2014
Bitcoin Center NYC, New York City's only brick-and-mortar local bitcoin trading institution dedicated to the further adoption of Bitcoin, is prominently featured in CNBC's online documentary "Bitcoin Uprising" including its allied segment "Behind bitcoin: An avid group tries to spread word."
The informative 30 minute long segment takes an objective standpoint to the Bitcoin revolution by placing the focus on the heart of the revolution - New York City's Bitcoin Center. Wether Bitcoin is a digital gold rush or a tool empowering dark web, the question of its future as a leap forward in internet technology has yet to be answered. CNBC's Mary Thompson takes an in-depth look at this emerging digital currency by speaking to the bitcoin faithful, a close-knit group of tech geniuses, finance gurus, and free thinkers from all walks of life converging at Bitcoin Center NYC.
The video can be viewed online at the official website for Bitcoin Center.