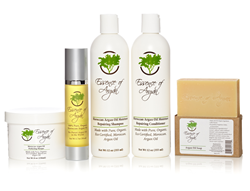 The Purest Argan Oil In The World
(PRWEB) April 28, 2014
Essence of Argan Is Proud to Be the Largest Consumer Provider of Eco-Certified Argan Oil in the World
Argan oil may be an ancient beauty secret, but it's also the product that modern celebrities are raving about. Since Argan oil has made its way into the mainstream, Essence of Argan has striven to get this health and beauty product into the hands of women in 16 different countries around the world.
Essence Of Argan's commitment to the beautiful world we live in, Essence of Argan has provided only Eco-certified Argan oil right from day one. When purchasing Essence of Argan, you are helping to support a women's cooperative in Morocco that works to keep the Argan trees thriving on a space of land that is very limited and protected by UNESCO.
Today, Essence of Argan is proud to announce they are the largest consumer provider of Eco-certified Argan oil in the world. This statement has been directly verified with Eco-Cert, the only global organic governing body in the world. With a footprint in Morocco, Eco-Cert can verify that Essence Of Argan is in fact, pure, organic, argan oil (if your argan oil does not say "ECO-CERT" it is probably diluted).
In addition, to selling the purest Argan oil in the world, Essence of Argan carries a large line of beauty products infused with Argan oil. Our shampoo, hair masque and conditioner have 6X more Argan oil than the next leading competitor.
Essence Of Argan is also excited to announce the Q2 launch of argan based lipstick and mascara. Soon you will have more ways that ever to put the beautifying effects of Argan oil to work for you, and Essence Of Argan continues to ensure that you will be using the finest argan oil in the world.