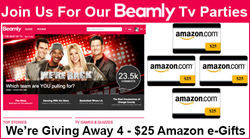 We all love watching our favorite shows like Scandal and chatting about it on social media, so we wanted to bring the party to Beamly chat rooms which are made specifically for that!
Atlanta, GA (PRWEB) April 29, 2014
If the anticipation of waiting another minute until the start of your favorite TV show is way too intense, you are among millions of other TV show fanatics with the same dilemma. In addition to the over-the-top excitement and stress of not missing a moment of "your show," trying to find a fellow fan to discuss last night's riveting episode is yet another challenge.
There is now an online service that was designed for the TV show's biggest fan in mind. Beamly is the 24/7 social network for TV that allows users to personalize profiles with favorite shows, receive the show's latest updates and gossip, and access to chat with others. The easy to use service, also available as a mobile application, allows users to sign up with Facebook, Twitter or email with no character limitation.
Your Life After 25, a blogazine working to entertain, educate and empower, is asking fans to join in the fun by encouraging them to join the service and share their favorite TV shows. The most popular TV shows will dictate which ones will be featured in upcoming parties.
To get started, visit http://www.beamly.com to set up a free profile and then find chat rooms and begin connecting with other tv show fanatics.
Once your Beamly profile is set up, visit http://www.yourlifeafter25.com, then leave a comment with your Beamly profile link and select two shows that should be featured in the next party. Show selections include Shark Tank, Dancing with the Stars, Grey's Anatomy, The Voice, American Idol or Other. Then follow Your Life After 25 on Beamly, and complete the other entry options for bonus entries.
The party choices will be announced in the next Your Life After 25 newsletter on May 7, followed by a party for the shows with the most votes and a chance to win one of 2- $25 Amazon gift cards per party.
About Your Life After 25
YourLifeAfter25.com (YLA25.com) is a lifestyle and women's blogazine working to "Entertain – Educate – Empower." Its mission is to assist women to get rid of the old expectations of who you should be by the age of 25 and celebrate who you will be after 25. Your Life After 25 is about living life to the fullest when society makes one think and feel like it's all downhill from there. Your Life After 25 covers many topics from women's issues, relationships, fashion, food, women in business, and causes like rape/domestic violence and suicide prevention awareness.  
Founder Da Vinci, who has also been a featured blogger for Blogads, and Co-owner Dante Trimble, are currently working on events and launching more exciting YLA25 projects.
For more information, please visit http://www.yourlifeafter25.com.
Follow us on Twitter, Facebook, Pinterest and Instagram @YourLifeAfter25.