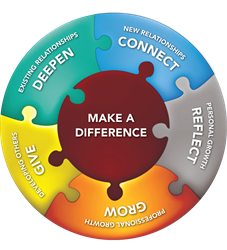 Lambertville, Michigan (PRWEB) April 30, 2014
With spring conference season in full swing, employees and business leaders may be wondering how to increase the value of their conference attendance. While some people may view conferences as a chance to get out of the office, Weaving Influence CEO Becky Robinson says that effective leaders will help employees view experiences in a new way, by giving attendees a framework for viewing the 6 key takeaways a conference experience can produce. She says that proactive planning and reflection before an event will result in a more successful event and will produce more lasting change. Below are the 6 takeaways Robinson says will increase your return on investment (ROI):

DEEPEN: Every conference offers the opportunity to deepen existing relationships. Attendees of conferences can consider who they are attending the conference with, how to use the time outside of the office to build relationships, and what steps they can take after the conference to continue to strengthen relationships.
CONNECT: Every conference, attended by 50 or 500, presents possibilities for new connections. Prior to a conference, attendees can think about the connections they hope to make. After the conference, follow-up to maintain and extend relationships is critical. Consider how to stay connected and add value in the future.
REFLECT: Often content at professional conference can be applied to attendees' personal life and growth. As attendees reflect on learning, they can ask "What did I learn personally? How can I apply it to my life? What specific action steps can I take?"
GROW: Professional growth is the main event at conferences – don't miss it! Be proactive in considering how to implement the learning from conferences. Schedule time once you return to work to create a plan about now to incorporate your learning in your work.
GIVE: Teaching others and sharing learning with others cements lessons. Improve ROI by extending the learning beyond those who attended the conference. Create opportunities for conference attendees to teach and share key takeaways with team members who stayed at the office.
Make a difference: True ROI happens when something is different as result of attending a conference. When attendees focus on how they can make a difference as a result of their learning and connections, they bring lasting value to their workplaces.
Becky Robinson is a social media strategist, author and founder of Weaving Influence leading a team of more than 20 skilled professionals partnering with authors and thought leaders to grow their online influence and market their books. She formed Team Buzz Builder, a supportive community of bloggers that she mobilizes on behalf of authors. She also has an extensive network of online followers through the Twitter accounts @beckyrbnsn, @weaveinfluence, @teambuzzbuilder, and @teamfaithbuildr. She is the author of "12 Minutes to Change Your Day," "Your Book Deserves a Celebration," and "31 Days of Twitter Tips: Grow Your Online Influence, 12 Minutes at a Time." For more information on Weaving Influence, visit the company's website.