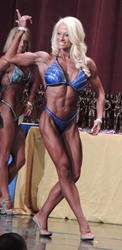 Orlando, FL (PRWEB) April 28, 2014
U ARe! Fashions developed its competition posing suit and bikini line, Center Stage Posing Suits, to bring exciting new creations to figure, physique, bikini and bodybuilding athletes. Each suit design brings a combination of elegance, beauty and originality to the table. Founder/Designer, Anissa Rogers, creates and designs each suit. She is passionate about delivering quality workmanship and believes hand-crafting (vs. mass producing) will ensure proper care and detailed attention. Each suit is a treasure and customers are satisfied knowing their investment is cherished.
"Working with Anissa Rogers on creating a posing suit has been such a delight and wonderful experience. She shows creativeness and expertise in the designs of her suit. She is also extremely flexible and a very good listener in meeting my needs for a suit. I would definitely recommend Anissa for all your posing suit needs!" Christine Keefer, IFPA/NGA Figure Professional (Center Stage Posing Suits' sponsored athlete)
"I love my suit! It fits perfectly and has a beautiful design. Anissa was well within my timeframe and was very helpful. She really knows what she's doing!" Melissa W., Amateur Figure competitor
Center Stage Posing Suits has recently partnered with a local nutrition shop and is offering posing suits and bikinis at wholesale pricing for resale by the shop owner. This is a great avenue for increasing exposure. Similar business opportunities are welcomed.
Center Stage Posing Suits is based in Orlando, FL, servicing athletes nationwide.
About Anissa Rogers:
Anissa Rogers is devoted to fashion and fitness. The two go hand in hand for this Professional Figure Athlete, Certified Fitness Trainer, Clothing Designer and Competition Suit Designer.
Fitness has been a part of Anissa's life for 15+ years. She began competing in 2004 and is currently an IFPA Professional Figure competitor. Anissa is an NFPT certified 1st Class Personal Fitness Trainer and is owner of BodyVisionz LLC, a contest prep/fitness business.
Anissa's passion for fashion designing cultivated in 2010 with the idea to design clothing that would give women a reason to celebrate themselves. U ARe! Fashions was birthed into a full women's clothing collection with the theme, Celebrate Who U ARe! Center Stage Posing Suits, a division of U ARe! Fashions, was the next natural step for Anissa. She equally loves competing and creating so the art of suit designing keeps her vigor for competing alive.
At age 42, Anissa shows no sign of slowing down. This active mother and self-employed entrepreneur hopes to continue to use fashion and fitness platforms as modes of motivation. She has big ideas for the future of U ARe! Fashions including a children's clothing line and athletic apparel line. Anissa's ongoing aspiration is to inspire people to discover their purpose and pursue their dreams.
Contact:
Anissa Rogers
Email: Uarefashions(at)outlook(dot)com
Phone: (407) 580-0883
Website: http://www.uarefashions.com