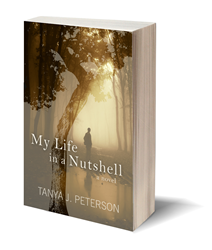 Peterson should be lauded for navigating the field of mental illness and presenting important relative issues in an affable fiction manner.
Portland, OR (PRWEB) April 29, 2014
HealthyPlace columnist, National Certified Counselor, and award-nominated author Tanya J. Peterson tackles anxiety disorders and the redemptive qualities of unexpected human connection in her new novel, My Life in a Nutshell, to be released on June 1, 2014.
Like she did in her novel Leave of Absence, Peterson crafted the novel to increase understanding of what it is truly like to live with debilitating anxiety. With My Life in a Nutshell, she increases intellectual understanding of anxiety disorders as well as emotional empathy for those living with them.
"My goal is to change the way the world thinks about mental illness and the people who experience it," says Peterson of her motivation to write what she does.
According to The U.S. Review of Books, "Peterson's writing is sensitive and engaging. As readers become invested in the outcome of her memorable characters, hopefully the ultimate triumph will be in helping to lessen the stigma that often surrounds such psychological disorders. Written from a very clear and well-informed perspective, Peterson should be lauded for navigating the field of mental illness and presenting important relative issues in an affable fiction manner. It is a truly fine work that entertains, as well as informs."
Tanya J. Peterson holds a Bachelor of Science in secondary education, Master of Science in counseling, and is a Nationally Certified Counselor. She has been a teacher and a counselor in various settings, including a traditional high school and an alternative school for homeless and runaway adolescents. Peterson is an active volunteer and support group facilitator with the National Alliance on Mental Illness (NAMI), and she is a regular columnist for the Anxiety-Schmanxiety blog on HealthyPlace.com. She has presented at the national conference for the Mothers of Incarcerated Sons Society, the Avera Behavioral Health Center, and with libraries and book groups nationwide. Her previous titles include Leave of Absence, a novel about schizophrenia, grief, and the power of human connection, and Losing Elizabeth, a YA novel about an abusive relationship