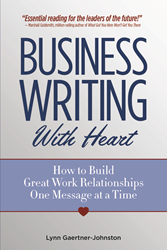 With professionals working at monitors and screens, writing is the best way—sometimes the only way—to build relationships.
Seattle, Washington (PRWEB) April 29, 2014
According to writing expert Lynn Gaertner-Johnston, business writing often fails because it lacks heart—it doesn't communicate warmth, respect and positive intent. In her book, "Business Writing With Heart: How to Build Great Work Relationships One Message at a Time," she shows how to write in ways that reinforce rather than weaken work relationships. The book, published by Gaertner-Johnston's company, Syntax Training, has been named a Silver Finalist in the Business & Economics and Self-Help categories for the IBPA 2014 Benjamin Franklin Award.
Gaertner-Johnston, who teaches writing at Fortune 500 companies, asserts that relationships are the key to success at work and that writing is often the best way to create relationships. "With professionals working at monitors and screens, sometimes far away from their colleagues and customers, writing is the best way—sometimes the only way—to build relationships," she says. In the book, she shows how to nurture relationships in writing and how to avoid common behaviors that damage relationships such as sending one-word emails and using sarcasm, which people often misinterpret.
The book provides wide-ranging tips on business writing opportunities and challenges, from sending congratulations and thank-you messages to expressing condolences, dealing with angry emails, and giving constructive feedback in writing. In 18 chapters with titles such as these, the book offers stories, tips, and examples to help readers:
--Protect Your Relationships by Avoiding Bad Email Behaviors
--Give Positive, Powerful Feedback
--Write Apologies to Mend Fences and Support Relationships
--Say No Clearly and Courageously
--Communicate Around the Globe With Courtesy and Wisdom
The 436-page paperback (ISBN 978-0-9778679-0-5) costs $24.95 and is available through booksellers, Ingram, and the publisher, Syntax Training. The e-book version (978-0-9778679-1-2) costs $9.99 at Amazon and Barnes & Noble online stores. The first chapter, "Add Heart to Your Writing One Message at a Time," is available as a free PDF download from Syntax Training.
Through her training company, Syntax Training, author Lynn Gaertner-Johnston has led business writing classes at more than 100 companies. A recognized expert in business writing etiquette, she has been quoted in "The Wall Street Journal," "The Atlantic," "Vanity Fair" and other media. She has taught managerial communications in the MBA programs of the University of Washington and UW Bothell.
The IBPA bestows the Benjamin Franklin Awards annually in 55 categories to recognize book editorial and design excellence. More than 160 book professionals, including librarians, editors, reviewers, designers, and bookstore owners, help to judge the books. The IBPA will announce the final silver and gold winners at a ceremony in New York City on May 28.