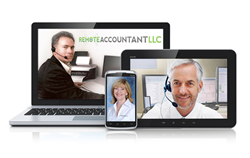 Independent sales representatives garner a 15% commission check for the lifetime of active referral accounts
Columbus, OH (PRWEB) April 29, 2014
Remote Accountant, LLC is a national accounting, bookkeeping, and tax firm, specializing in catering to small businesses and individual accounts; they offer full cycle accounting, year-round tax services, and financial advisement. Today the tax firm has announced that they are seeking the immediate hiring of additional Independent Sales Representatives across the USA to market their accounting services.
Remote Accountant, LLC has developed a revolutionary sales commission program, offering lifetime account residual payments on a monthly basis, based upon independent representatives' individual account referrals. Their accountants have expressed their surprise about generating a surplus of additional revenue in one year, by simply gathering referral leads for Remote Accountant, LLC.
Remote Accountant, LLC's independent sales representative positions present an opportunity for networkers, marketers, sales representatives, insurance agents, real estate professionals, bookkeepers, accountants, tax preparers, attorneys, and anyone who has regular contact with people and professionals, in addition to small businesses. This unique program heralds the potential to act as a lucrative stream of extra revenue for the duration of active accounts with residual commissions.
Remote Accountant, LLC's commission program is simple. Independent sales representatives garner a 15% commission check, or electronic payment, based on the previous monthly billing cycle of Remote Accountant, LLC's gross monthly charges for representatives' existing referrals- for the lifetime of active accounts. Most accounting clients remain with their accounting firms for decades.
This independent sales representative program is an excellent alternative for retiring CPA or bookkeeping firms to supplement their income by referring their client base and accounting workload to Remote Accountant, LLC to receive lifetime residual income, for all active referred accounts, which took a lifetime to establish.
Remote Accountant, LLC has the full information of its independent sales representative program, and sign up information on its website at http://www.remoteaccountantllc.com. To access this information click on the tab for Representatives.
The specialists at Remote Accountant, LLC use the newest cutting edge technology, live video chat, PC to PC login for automatic updating so accounting, bookkeeping, and tax filings are all streamlined. Remote Accountant, LLC provides a wide range of services which can be found on their website http://www.remoteaccountantllc.com or on their firm introduction video.