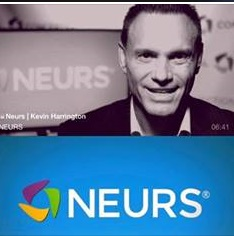 I am thrilled to have an equity stake in NEURS and to be a founding member
Miami Lakes, FL (PRWEB) April 28, 2014
Monday, April 28, 2014 – Miami, FL – From its pre-launch efforts, NEURS has reached over 190 countries with over 14 million page views and almost 300,000 active users. Many believe this Bi-Lingual platform is poised to be the next explosive resource tool for the growth of small business globally.
Frank Codina, Co-Founder and CEO of NEURS said, "We are proud to have Kevin Harrington as an integral part of our team. We are aligned and share the same vision and commitment to help CONNECT the world of aspiring entrepreneurs and providers of business opportunities and services."
Kevin Harrington was asked why he chose to be a part of NEURS and responded, "One of the most challenging aspects of starting a business is to know what type of business to start. The next question entrepreneurs have is where to find the resources to turn an idea into a reality. NEURS gives me the opportunity to help millions of people around the world discover their most compatible business opportunities and connect them with the professional business providers who can help them achieve their dreams. I have been involved in several projects promoting entrepreneurship, and nothing I have seen up until now compares to this. This is a much needed service whose time has come."
NEURS has it all…

Concepts
Connections
Capital
A complete package for entrepreneurs.
"I am thrilled to have an equity stake in NEURS and to be a founding member. Take it from me, after 30 years in business I've been on both sides of the entrepreneurial spectrum and I can tell you first hand as an entrepreneur just starting out how difficult it is to find all of the right resources and having all of the right connections. NEURS solves the major obstacles facing both parties. I think that's incredible," said Kevin Harrington, inventor of the Infomercial and an Original 'Shark Tank' Shark.
In 1980, Kevin started one of the first small business centers in America. This became the foundation for his long-term entrepreneurial success. He had the concept to provide all of the services necessary under one roof for entrepreneurs. After much success, he then expanded to brokering franchises and took the concept globally. He was featured in several business magazine covers globally.
As he was watching TV late one night, he saw the infamous "color bars" come on the set. This sparked a billion dollar idea. He had the foresight to approach the cable company and purchase the late night time slots and the first infomercial was born when he created a commercial for buying a franchise. This led to a global media deal with Rupert Murdoch and the birth of the infomercial world as we know it today.
Kevin then together with Ted Leonsis, former senior executive with America Online (AOL) and now Chairman of Groupon and Monumental Sports & Entertainment to form the Entrepreneur's Organization (EO), which is now a global iconic networking organization, created to support entrepreneurs. Kevin has since then taken several brands from zero to hundreds of millions of dollars including Tony Little's brand that is now over three billion.
Kevin has the vision to "see the future" as many business icons have quoted. That's why his commitment to NEURS is so powerful. "We know his endorsement and equity stake in our company speaks volumes for the value of what we know we are providing to entrepreneurs and aspiring entrepreneurs globally," said Frank Codina, Co-Founder and CEO of NEURS.
ABOUT NEURS LLC
The world of Entrepreneurship is about to change. NEURS LLC is building the premier online meeting point for entrepreneurs and business providers to meet, share and collaborate on mutually beneficial business ventures. The company provides its members with advisory, educational, and financial resources through an online network (neurs.com). The company empowers entrepreneurs worldwide by providing the concepts, connections and capital they need to find, build and profit from their ideal business. The company's headquarters are in Miami, FL. For more information on the company, please visit http://www.neurs.com. Twitter: @NEURSHQ. Facebook Page NEURS.com.