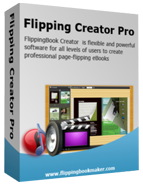 (PRWEB) April 28, 2014
Popular PDF to flipbook pro software Flipbook Creator Pro can now be used to convert the static PDF files to animated flip book, confirmed a representative of FlipPageMaker Software Co., Ltd. In addition, the users can add rich multimedia content on flash magazine with FlipBook Creator Pro with the click of a few buttons. The introduction of the new feature is a part of the company's plan of offering more unique software to its user and staying ahead of the competition.
Speculations are that the software will now provide much better ways for users to make their presentation creative and attractive. The software is specially intended for all animation lovers who like to put graphics in their files. FlipBook Creator Pro allows users to convert PDF files into animated, attractive and engaging flip books. The Pro Windows version of the software has an impressive Flip Page Editor that helps in inserting text, pictures, buttons, videos, flash and Javascript according to the needs and preferences of the users.
Using Flipbook Creator Pro users can make magazines, page flipping photo albums and catalogs among others. The format of flipbooks is more impressive than static PDF files and can help businesses to make bigger profits by increasing sales.
Flipbook Creator Pro is being used by both small and big businesses for commercial success. The company is also making efforts to increase the popularity of the product among non-profit organizations. To attract NPOs, the company is offering 50 percent discount to them. When contacted, Jack, one of the reputed clients of Flipbook Creator Pro said, "I am very happy with the software. It has made work a lot easier. You do not need to look for any other tool once you use this amazing software since it has all the required things such as photo effects, hyperlinks, slideshow, music and a lot more."
For more information, go to http://www.flippagemaker.com/flippingbook-maker-pro/.
About FlipPageMaker Software Co., Ltd
FlipPageMaker Software Co., Ltd. was established in 2008. The company is known to provide excellent digital printing solutions to the users. The company provides cost effective products for both business and personal purpose.