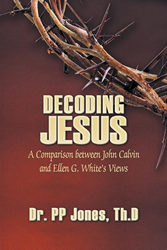 This original contribution advances theological scholarship and is indeed a thought-provoking and creative work. Highly recommended!
(PRWEB) May 05, 2014
Although their ideas are divergent in many ways, they both shared a pivotal common denominator: the Judeo-Christian Bible from Genesis to Revelation as a major template from which they reflected on the close connectedness, and yet radical difference of God, human beings, and the created environment.
Calvin encountered a theological conundrum. He was unaware that one cannot hold on to the 16th-century Reformation of employing the biblical historical time-line from Genesis to Revelation, whilst simultaneously embracing the classical first millennium Trinitarian view. In short — Karl Barth's statement that the dogma of the Trinity is not found in the Bible, but can be used as the main starting pattern of one's theology — still holds sway!
White's voluminous writings are altogether devoid of the word Trinity. Having read Calvin's doctrines, she most likely saw Calvin and the Reformation's contradiction concerning the dogma of the Trinity, and wanted to avoid the same trap. The way people "decode Jesus" either unifies or divides people. This book is truly an eye opener.
"This original contribution advances theological scholarship and is indeed a thought-provoking and creative work. Highly recommended!" - Dr Kayle B. de Waal (Ph.D., University of Auckland) is Senior Lecturer in New Testament Studies at Avondale College of Higher Education, New South Wales, Australia.
"This is a 'must' read for every student of Systematic Theology. It is bound to engage, provoke, enthrall, and stimulate the minds of readers." - Vincent R Injety, PhD; President of Helderberg College, South Africa
"The book is well written… makes a valued contribution to the field, especially to SDA's." - Pierre Steenberg, Ph.D., D.Min., International Board of Christian Counselors, California
Decoding Jesus: a Comparison Between John Calvin and Ellen G. White's Views (ISBN: 978-1-62857-742-6) is now available for $19 and can be ordered through the publisher's website: http://sbprabooks.com/PPJones or at www(dot)amazon(dot)com or www(dot)barnesandnoble(dot)com.
Wholesalers: This book is distributed by Ingram Books and other wholesale distributors. Contact your representative with the ISBN for purchase. Wholesale purchase for retailers, universities, libraries, and other organizations is also available through the publisher; please email bookorder(at)aeg-online-store(dot)com.
About the Author: Dr. Patrick Patrese Jones, Th.D (Portuguese name: Patricio Jose Figueiredo) is a successful entrepreneur specializing in real estate and property development. He is an international motivational speaker, preacher, teacher, and author, whose academic background includes business, law, philosophy and theology. He lives in White River, Mpumalanga, South Africa.
Strategic Book Publishing and Rights Co, LLC