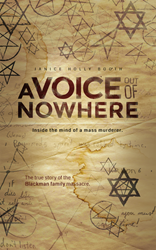 It does no good to view the killers with contempt. We need to summon empathy.
Charlotte, NC (PRWEB) April 29, 2014
It was a rainy, winter morning just outside of Vancouver, British Columbia when a 22-year-old man with no history of violence savagely murdered six members of his family. The young man had no motive, but he did have something – severe, untreated mental illness. Bruce Blackman was charged with six counts of first-degree murder and found not guilty by reason of insanity. He was committed to an asylum and eventually released. His story is chronicled in a new book, "A Voice out of Nowhere: Inside the mind of a mass murderer."
"When the headlines swept across the nation, people thought only an evil person could have committed such a horrific slaughter," says author Janice Holly Booth. "In 'A Voice out of Nowhere,' you see that the killer was anything but evil. His untreated mental illness was the culprit." By reading the book, Booth hopes that people will gain insight into how formerly gentle people can turn aggressive and violent if their mental illness is not effectively treated. "As vicious as these crimes are," says Booth, "it does no good for us to view the killers with contempt. We need to summon empathy for the families and yes, the killers too." Booth points out that people who commit violence while under the influence of mental illness are victims of a malignant brain disorder they didn't ask for. "It's time to change our attitudes about mental illness and to fix a very broken mental health care system. That's the only way we'll have a hope at reducing the high-profile violence committed by people with severe, untreated mental illness and in the process save thousands of lives."
"A Voice out of Nowhere" is an Amazon #1 best-seller and is available in as a paperback and e-book.
ABOUT JANICE BOOTH: Born in British Columbia, Janice Holly Booth is an avid solo traveler and lifelong equestrienne. She spent 20 years as a non-profit CEO before becoming a full time writer and speaker. Her first book "Only Pack What You Can Carry," was published by National Geographic and was an international best-seller in travel. Her latest book, "A Voice out of Nowhere," is a true-crime novel and was Amazon's #1 best-seller in schizophrenia. Janice currently lives near Charlotte, NC.