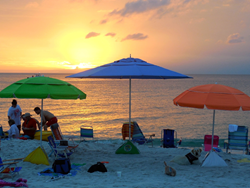 "The beachBUB™ is the long overdue solution for the shade loving public as well as safety officials..." - Bill Schermerhorn
Colfax, NC (PRWEB) May 01, 2014
beachBUB USA introduces their newly patented and launched beachBUB™ which addresses safety concerns as well as beachgoers' concerns to provide shade for their families. Many city councils across the US are finding themselves revisiting safety issues on their beaches and struggle to find a balance between public safety and the desire for their beachgoers to provide shade for their families. Myrtle Beach, SC is currently dealing with the fallout of beachgoers over its recent decision to ban tents on their beaches starting this season.
Myrtle Beach City Council voted 5-1 Tuesday to ban the tents, with only Councilwoman Susan Grissom Means voting against it. "I have to reiterate," Means said. "I'm against this ordinance. I think it's wrong to tell people that they can't [have] a way to shade their babies and the elderly from the sun." When these ordinances go into effect they often leave the public to find alternative solutions for providing shade for their families.
Beachgoers have been using umbrellas to provide needed shade for their families on beaches for decades. As most beachgoers know, sunny beach days also mean windy days. Consequently, people have struggled for decades to find the best way to anchor their umbrellas in order to secure them from falling over and flying away. However, there seems to be no foolproof and easy solution for securing them. Municipalities are at a crossroad where they have little to no choice but to ban some shade devices altogether for the sake of safety because the marketplace has not adequately addressed the problem. But is banning a device that provides beneficial shade for its user the solution? For decades the marketplace's answer was to dig a hole or use a screw device to secure an umbrella. Clearly the current methods are not sufficient indicated by the number of accidents, lawsuits and actions of some city councils. Therefore, municipalities are being forced to address these concerns with restrictions but at the expense of a benefit that the public wants and needs.
Inventor and beachBUB™ USA owner Bill Schermerhorn says, "The beachBUB™ is the long overdue solution for the shade loving public as well as safety officials. Families now have access to a product that will allow them to utilize their umbrellas even on windy days. "It's effective, easy and works amazingly well", said a current user, Barb Keigler in Naples, FL whom recently used her beachBUB™ to anchor her umbrella on a beach day where the wind was gusting at 20mph. Safety officials will see the benefit from the public using the beachBUB™ by seeing a reduction in Fly-A-Away umbrellas.
Finally, in 2014 families can enjoy a more relaxing day at the beach and safety officials will see fewer umbrella-related injuries. The beachBUB™ may just be the new standard that addresses the need for family sun protection and beach safety.
About beachBUB™ USA:
beachBUB™ USA is a family owned and operated company based in Colfax, NC and envisioned in Naples, FL.
Marketing/Sales Contact:
Lucy Schermerhorn
http://www.beachbub.com
336-580-0189