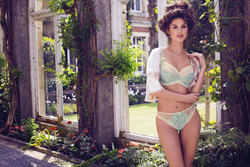 For those customers who don't find certain bra styles offer them enough coverage, the full cup is a fantastic and really supportive option.
Desborough, Northamptonshire, UK (PRWEB) April 30, 2014
Lingerie retailer Leia have announced a significant sales boost in full cup styles as this classic look makes a comeback. The boutique – who sell online at leialingerie.com and have stores in York, Cardiff and Bluewater - have seen a wide selection of full cup bras from recognised underwear brands such as Fantasie lingerie surge in popularity.
Overall, sales of full cup lingerie and briefs in March 2014 rose by nearly 30%, compared to sales in March last year. While sales of full cup bra styles alone had increased further, rising by as much as 44% compared to the same period the previous year. Leia caters for women with a varied selection of sportswear, lingerie and swimwear collections from a whole host of well-known and specialist brands, including Elomi, Freya, Goddess, Huit, Wacoal and B.tempt'd.
Leia revealed that one of their biggest-selling full cup ranges was the Susanna collection. This style from Fantasie lingerie, featuring delicate and detailed lacework, saw its sales increase by 15% compared to the same period last year.
One of Leia's plus-size ranges also featured heavily in their year-on-year sales charts. The Elomi bra brand sold 33% more full cup styles through its famous Caitlyn collection. Moreover, Leia also reveals that the best-selling size of full cups is an F cup, which has seen an increase of 38%, while 34-inch bands have had a 56% sales increase compared to March 2013.
Full cup bras are often chosen by women who are looking for more coverage, and who prefer to avoid wearing a low plunge bra. They are designed to create a fuller bust, whilst also providing a smooth silhouette underneath any style of clothing. Leia also point out how wearing a bra that fits correctly (of any style) is essential when it comes to enjoying the right amount of support, complementing the wearer's shape and building their confidence.
Nigel Addison from Leia Lingerie described how "It's great to see that full cup bras have become so popular. With so many more different new bras styles available now, such as longline bras and vertical seam bras, some customers may find it a challenge to choose the perfect style for them. For those customers who don't find certain bra styles offer them enough coverage, the full cup is a fantastic and really supportive option."
As well as a wide-ranging collection of swimwear and underwear, Leia also offers a whole host of lingerie advice and style guides at http://www.leialingerie.com/my-leia.aspx.
About Leia
Leia has over ninety years of lingerie design experience and aims to provide inspiring and affordable lingerie swimwear and sportswear, from an A to a K cup. Leia principally allow women to buy lingerie online via their retail website, but they also have boutiques in York and Cardiff, as well as Kent's Bluewater shopping centre. The Leia range featuring a wide choice of brands, including Freya, Fantasie, Fauve, Elomi and Huit, with ranges available from a 28" to 48" back. To find out more about Leia, visit http://www.leialingerie.com.