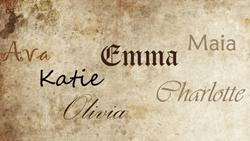 Stirling, Scotland (PRWEB UK) 5 May 2014
Creating custom name labels means Labels4Kids is very in tune with both the most common and the most uncommon names. So which names are hip and happening? And which names are so 2013?
Girls' names

Emma: this golden oldie is never far from the top 10 most popular names. Year after year it ranks high and different versions such as Emily and Emmy keep the name fresh. The name is popular across the Western world, consistently ranking high in the UK, US, France, Belgium and Scandinavia.
Olivia: from the Latin word for olive, 'oliva'. Shakespeare was the first to add the extra 'i' and create the name Olivia which we are now all familiar with.
Charlotte: A very versatile name that paved the way for derivatives such as Charlie, Carlotta, Lotte, Lottie and Lotta. It originated as a female version of the name Charles and was popularized by Charlotte Brontë, the eldest of the Brontë sisters.
Katie/Kate/Catherine: All these names and many, many more derivatives come from the name Katherine, an old name used across Europe and Russia. It has been in use in the United Kingdom since the Middle Ages.
Sophie/Sophia/Sofie: it comes from the Ancient Greek word σοφία meaning 'wisdom' or 'knowledge'.
Mia/Maia: The common link between these two names is the root Maria. Mia is the Dutch/Scandinavian form and Maia is the Basque form of the name. With its roots in Hebrew, the name 'Maria' has been around for a very long time though it is still alive and kicking and has sprouted many related names. With this much variety, it's not hard to pick a fitting name from within this family.
Steadily on the rise: Ava. From one of the following three backgrounds: 1. Meaning 'voice' in Persian, 2. A variant of Eve, 3. From a Germanic background and possibly meaning 'desired'. Particularly high-ranking in Scotland, this name saw a year-on-year rise in popularity ever since the start of the 2000's.
Boys' names
Alex/Alexander: This name comes from Greek (alexo + andros) and means 'defending men'. This ancient name saw a rise in popularity after Alexander the Great, who built a kingdom spanning modern day Egypt, Persia, Iran, India, part of Afghanistan and Pakistan, in 4 BC. A good idea to name a boy after such a heroic figure!
Jack/Jake: 'Jake' is considered a variant of 'Jack' which in turn was a diminutive of 'John'. The name Jack became so ubiquitous in the Middle Ages that it was used as a generic name for men or as slang for the word 'man'. It became the name of choice in children's songs, nursery rhymes, and expressions such as jack-of-all-trades. Nowadays it is still a very common name in Scotland, Ireland and Northern Ireland.
Noah: From Hebrew meaning 'rest' or 'comfort', the popularity of this name is steadily on the rise across the Western World showing an upward curve since the 2000's in the UK, US, Scotland, Ireland and continental Europe.
Tom: From Thomas. There are numerous forms in this family line with most European languages having their own twist on the name. It is thought to have come from the Greek word for 'twin'. Thomas Becket and Thomas Aquinas, both saints, were famous bearers of the name making it a suitable naming choice for Christian families.
William/Will: From 'Willahelm' which compromises the words wil (desire) and helm (helmet). A name with a royal history, with several kings having borne the name in England, Scotland, Prussia and the Netherlands.
Charlie: from Charles, this in turn was based on the German name Karl. The most popular form of this name is Charlie or Charley, increasingly popular as a girls' name as well. Following this trend of boys' names for girls one can expect to see quite a few girls called George in 2014 and onwards in honour of Prince George, born July 22, 2013!
Bonus: the most uncommon names of 2013
Anakin: do you think their parents were Star Wars fans, perhaps?
Ascari
Ameera
Bambou
Cassius
Effie
Honey
Jizelle
Malachi
Sixtene
Stirling
Tillia
Zebedee
With such a wide variety of names, and so many school uniforms to label, I think it's clear parents who don't like losing costly school clothes and items should label their stuff! Labels4Kids will be there to help you do just that, in 2014 and beyond!