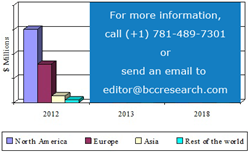 Global Market for Drugs to Treat Sle to Reach $2.6 Billion In 2018
Wellesley, Mass., (PRWEB) April 28, 2014
BCC Research (http://www.bccresearch.com) reveals in its new report, DRUGS FOR TREATING SYSTEMIC LUPUS ERYTHEMATOSUS: GLOBAL MARKETS the global market for drugs to treat systemic lupus erythematosus (SLE), is expected to grow to $2.6 billion by 2018, with a five-year compound annual growth rate (CAGR) of 22.4%. The North American market, the fastest growing regional segment overall, is growing at a tremendous 24.7% CAGR.
SLE is a devastating and chronic autoimmune disorder affecting almost all the organs, with only one approved marketed drug — making this a significant area of unmet medical need. But there are now numerous companies developing novel treatments. North America, far and away the largest segment in the overall market, is expected to grow to $1.8 billion by 2018.
Europe, the second largest and fastest growing market, is projected to reach nearly $542 million and register a CAGR of 15.5%
"With earlier diagnosis of SLE and better treatment options for the disease and its complications, the prognosis has markedly improved over the past decades," says BCC Research pharmaceutical analyst Sanjukta Bhattacharyya. "But significant unmet needs remain in the management of SLE. Morbidity, especially renal failure, and mortality from cardiovascular events after long-term follow-up are still important issues to be addressed. The multifactorial nature of the disease increases the complexity of its diagnosis and end-point definition."
DRUGS FOR TREATING SYSTEMIC LUPUS ERYTHEMATOSUS: GLOBAL MARKETS provides an overview of the global market for drugs and therapeutics used to treat SLE. It includes an analysis of global market trends, with data from 2013 and projections of CAGRs through 2018, as well as analyses of factors influencing market demand such as the industry's structure, governmental regulations, and developing technologies. In addition, this study presents details concerning the developmental product pipeline for therapeutics used to treat SLE and profiles of leading companies in the industry.
This report is intended for the pharmaceutical and biotechnology industries and diagnostics sector, as well as the medical practitioners who treat patients in these areas.
Editors and reporters who wish to speak with the analyst, should contact Steven Cumming at steven.cumming(at)bccresearch(dot)com.
About BCC Research
BCC Research publishes market research reports that make organizations worldwide more profitable with intelligence that drives smart business decisions. These reports cover today's major industrial and technology sectors, including emerging markets. For more than 40 years we've helped customers identify new market opportunities with accurate and reliable data and insight. These include, but are not limited to, market sizing, forecasting, industry overviews, and identification of significant trends and key competitors. We partner with analysts who are experts in specific areas of industry and technology. Their up-to-date knowledge gives our customers unbiased measurements and assessments of these vital markets. Because our reports offer a global focus, our customers include the top companies in industries around the world as well as universities, major business schools, start-ups, consulting firms and investment companies. BCC Research is a unit of Eli Research LLC.
Data and analysis extracted from this press release must be accompanied by a statement identifying BCC Research LLC, 49-2 Walnut Park, Wellesley, MA 02481, Telephone: (+1) 781-489-7301; Email: mailto:editor(at)bccresearch(dot)com as the source and publisher. Thank you.