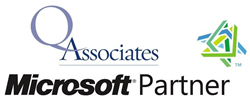 New York, NY (PRWEB) April 30, 2014
Queue Associates, a global provider of Microsoft Enterprise Resource Planning solutions, will be exhibiting at the 2014 NYC Accounting Technology Trade Show for the 12th consecutive year. On April 30th & May 1st, Queue will be located in booth #327 at the Penn Plaza Pavilion, Pennsylvania Hotel NYC to demonstrate Microsoft's line of business, accounting, and CRM solutions. Queue will focus its efforts to show attendees how Microsoft Dynamics GP can benefit those who have, or are outgrowing their entry level accounting packages such as QuickBooks.
While QuickBooks may be a good entry-level solution, it has limitations that prevent the product from meeting the needs of many companies and organizations – especially growing companies and larger organizations. Compared to most mid-range solutions, QuickBooks is missing a tremendous amount of features that are pertinent for growing companies to have; such as built-in workflow capabilities, business intelligence, and an extensive wizard for creating business alerts. In addition, QuickBooks database slows down dramatically as the volume of transactions and master record lists increase. The reality is that once you've started seeing performance and feature shortcomings in QuickBooks, this is a sure signal that your company is on the verge of outgrowing it.
The best upward migration path offered to QuickBooks users are to step up to Microsoft Dynamics GP for the following reasons:

Microsoft Dynamics GP provides more than twice as many features compared to QuickBooks.
Microsoft Dynamics GP offers automatic data conversion capabilities from QuickBooks.
Microsoft Dynamics GP offers a much more robust database and better technology.
Microsoft Dynamics GP can handle millions of transactions without slowing.
Microsoft Dynamics GP eliminates the need for countless spreadsheets.
Microsoft Dynamics GP provides stronger financial reporting with scheduled reports which can be delivered via e-mail to predetermined recipients.
To learn more, stop by booth #327! In addition, Queue will be live tweeting from the 2014 NYC Accounting Technology Trade Show. Search for Queue Associates on Twitter, LinkedIn and Facebook to look at photos and read up on our trade show experience.
About Queue Associates
Queue Associates Inc. is a full-service information technology consulting firm whose primary focus is to provide Microsoft Dynamics solutions. These interconnected solutions include accounting, finance, project accounting, financial reporting, Internet-enabled enterprise resource planning (ERP), sales force automation and customer relationship management (CRM) systems. Queue provides a full range of services including installation, implementation and training, customization, and ongoing technical support to clients. Queue's uniquely thorough Business Process Review, conducted by CPAs and MBAs, ensures that recommended solutions meet clients' current and long-term requirements. Queue Associates maintains office in New York City, New Jersey, London, Germany and Hong Kong; available to serve clients worldwide.