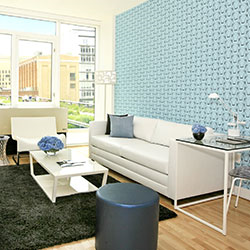 New York, New York (PRWEB) April 29, 2014
Furnished Quarters, the largest provider of temporary furnished apartments in New York City and Boston, announced the launch of one of the most extensive guest affinity programs in the corporate housing industry, FQ Perks. The enhanced guest affinity program is designed to provide best-in-market special offers and services to guests of Furnished Quarters' corporate apartments and other short-term rentals.
As part of the upgraded program, Furnished Quarters has partnered with prominent vendors in each of its core markets. New partners include Uber, Peapod, FreshDirect, and The Shops at Prudential Center. These offers can add up to hundreds of dollars in value and savings per visit, ranging from up to $50 off on groceries delivered to the home, to complimentary cocktails and guaranteed tables for fine dining.
A primary goal of FQ Perks is providing recommendations to guests that are hand-selected by Furnished Quarters. These include preferential treatment, deals, and discounts negotiated exclusively for guests. The Perks cover services that guests would need if they relocate to, or visit, a new local market. These include wide-ranging offers such as dry cleaners, pet services, food delivery, restaurant discounts, transportation deals, and shopping vouchers.
Those who partner with FQ Perks can benefit by reaching potential customers with their brand before they even reside permanently in a new city.
"Uber is excited to partner with Furnished Quarters," said Kate Doyle, Community Manager at Uber, a free app that allows riders to request a driver instantly. "Both brands are committed to giving guests the best possible experience. As a rewards partner, Uber will be able to reach a great new audience and provide convenient and stylish rides."
"Our FQ Perks program now offers value-added services and products to our clients and guests in a manner that is unmatched in the corporate housing industry," said Craig Partin, Vice President of Sales for Furnished Quarters. "With possible savings of up to $500 in local offers, our guests can settle into their Furnished Quarters' temporary furnished apartment more quickly and efficiently than ever."
To kick-off guest stays, Furnished Quarters provides FQ Perks offers in-residence when guests arrive as part of their welcome packet. Additionally, the company recommends partners and provides updated offers when specific types of vendors are requested.
About Furnished Quarters
Furnished Quarters is an independently owned and operated provider of stylishly designed and fully equipped temporary furnished apartment rentals, both nationally and globally, and the largest provider of temporary furnished housing in New York City and Boston. Furnished Quarters also provides a diverse portfolio of temporary furnished apartments in New Jersey, White Plains, and Connecticut. Established in 1998, Furnished Quarters is a founding member of GO Furnished Housing Providers, a consortium of best-in-class temporary housing companies offering one-call access to apartments worldwide. For more information visit http://www.furnishedquarters.com.