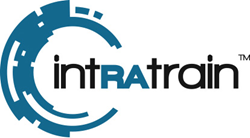 "I enjoy giving them the tools necessary to make design a program that truly makes a difference for their organization."
Branson, Mo (PRWEB) April 29, 2014
intRAtrain and inspectiTRAC by Russell Associates President and CEO Jerry Van Oort and Business Development Manager Sarah Frank will exhibit at the 2014 Mid America Safety, Health & Environmental Conference and Expo. The expo will be held May 7-8 at the Hilton Branson Convention Center in Branson, Mo. Russell Associates' CEO, Jerry Van Oort, sees Russell Associates' attendance as an opportunity to discuss safety program challenges and the solution options with a variety of professionals looking to improve the effectiveness of training, incentives, industrial or general safety and quality programs' and the efficiencies in their work environment.
During the conference Van Oort will have the opportunity to present two informative sessions to those attending the conference. The first session, "Secrets for Getting the Most out of your Safety Incentive Program" will focus on equipping attendees will the knowledge they need to design proactive safety incentive programs while avoiding costly mistakes. Van Oort stated "I enjoy sharing with attendees some of the pitfalls of ineffective programs then giving them the tools necessary to make design a program that truly makes a difference for their organization."
During his second presentation Van Oort will present "The Future of Safety Inspections is a Mobile Solution". This session will focus on how the competitive business environment acts as a driver for organizations to seek methods they can use to improve the performance of the organization while reducing respective costs. Companies have found that the ability to automate internal audits, inspections and observations has resulted in reduced time requirements compared to paper-based inspections while still providing accurate and complete data. Additionally, it has been found that the automation of inspections and audits improves the timeliness of data availability resulting in faster turnaround time to resolve critical workplace safety and compliance concerns.
Van Oort comments, "Automating the inspection and audit process results in major time savings for companies. I don't think most organizations understand how much time is required to complete their regular audits, inspections and observations until they more closely examine their processes. It is very rewarding for me to help companies take the first step to saving thousands by simplifying and automating a normally very time consuming process."
Registration for the Mid Am Safety Conference is still available. In additional to Van Oort's sessions, many other informative sessions will be presented over the course of the conference.
About intRAtrain and inspectiTRAC by Russell Associates
intRAtrain and inspectiTRAC by Russell Associates, based in Le Sueur, Minnesota, has over 30 years experience and expertise working with companies to increase employee productivity from improved job skills training; increased employee safety, safety, food safety and quality behaviors. Using technology, Russell Associates develops solutions that increase effectiveness and efficiencies, reduce cost, and improve ROI from training, testing, and inspections/audits.
About the Safety Council of the Ozarks
The Safety Council of the Ozarks is a nonprofit, non-governmental organization dedicated to improving the safety, health and environmental well being of all people. The Council is a joint membership chapter of the National Safety Council serving Southern Missouri and Northwest Arkansas. The Safety Council of the Ozarks and the National Safety Council are committed to protecting life and promoting health – both locally and nationally.