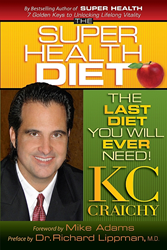 "These doctors are leading edge and really get it! How they practice is truly making a difference in people's lives." KC Craichy, Living Fuel
Orlando, Florida (PRWEB) April 29, 2014
More than 200 doctors from across the country are meeting this weekend in Miami for the annual Integrative and Complementary Academic Medicine Program hosted by the University of Miami Miller School of Medicine. It's known as the iCamp.
Primary care providers, medical specialists, nutrition professionals, researchers in healthcare, and other licensed healthcare providers will be learning how to analyze the role of integrative medicine and nutrition in managing common chronic disorders and how to develop appropriate treatment plans for patients.
KC Craichy, best-selling author of "Super Health 7 Golden Keys to Unlock Lifelong Vitality" and "The Super Health Diet: The Last Diet You Will Ever Need!", will be the featured speaker during the Saturday luncheon.
"These doctors are leading edge and really get it," Craichy said. "How they practice is truly making a difference in people's lives."
Craichy's topic will be "The Four Corners of Superfood Nutrition," which is an integrated approach that combines four of the most clinically validated areas of nutrition science including; 1. Eating fewer calories while increasing nutrient density, 2. Minimizing sugar intake and high glycemic response foods, 3. Increasing antioxidants and 4. Getting the right fats.
Craichy is excited to share these powerful tools for Superhealth with doctors who can in turn teach these concepts to their patients. "It is my privilege to speak to the Integrative and Complementary Academic Medicine group about the Science of Superfood Nutrition," Craichy said.
KC Craichy is a health advocate, researcher, and recognized expert on natural health and performance nutrition. His extensive study of leading-edge health research and collaborative work with top medical and nutritional practitioners and researchers to solve his wife Monica's health problems—anxiety, depression, and suicidal thoughts—led him to the answers for Monica's healing and to the founding of Living Fuel, Inc. As a result of overcoming this health crisis, KC and Monica have helped numerous people become overcomers in their own health situations. Together they are now cohosts of the popular Internet TV program LivingFuelTV.
KC is committed to changing lives through multimedia, super health lifestyle education combined with super healthy, high impact superfoods. He is a Performance Nutrition Specialist and serves on the Nutrition Advisory Board for Titleist Performance Institute. KC also served on the Clinical Nutrition Review Board (the certifying body of the International and American Association of Clinical Nutrition) for seven years. A frequent natural health and performance nutrition guest on various TV and radio programs as well as a frequent contributor to national magazines and blogs, KC lives in Orlando, Florida, with his wife, Monica, and their five children.