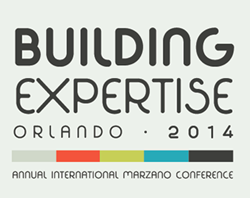 Our research team has worked diligently to gather and analyze data on current teacher pedagogy that we look forward to sharing at the conference.
West Palm Beach, Florida (PRWEB) April 30, 2014
World-renowned education expert Dr. Robert J. Marzano will host the third annual Learning Sciences Marzano Center international conference, Building Expertise, in Orlando June 18-20, 2014. This conference provides the international community of education professionals with timely solutions to meet today's most pressing challenges for schools and districts.
Sweeping changes in education policy are requiring more rigorous learning from students. In turn, educators must build their expertise to teach higher-order thinking skills and analysis to prepare learners for college and 21st-century careers. Building Expertise 2014 is an essential professional development opportunity for committed educators seeking tools, resources, and training to develop pedagogical skills to meet the needs of today's students.
In their Thursday and Friday keynote addresses, Dr. Marzano and Learning Sciences CEO Michael D. Toth will share the results of data collected from the largest available database of classroom observations in the U.S. Marzano and Toth will introduce Marzano Center Essentials for Achieving Rigor, a non-evaluative model of instruction. The new model presents a professional development system for teacher planning, feedback, and growth, distilling core classroom strategies that help educators move students toward deeper levels of thinking and increased rigor.
Learning Sciences Marzano Center will also introduce recent advancements and new services, including:

Data gathered during a Marzano Center multi-year pilot project in Pinellas County, Florida, called "pioneering" work by Florida education officials that "breaks the mold" in teacher evaluation. (Tampa Bay Times: State Takes Notice as Pinellas Tries a New Way to Evaluate Teachers; Tampa Tribune: Schools Break Teacher Eval Mold).
A research services division dedicated to helping schools optimize data for real gains in teacher growth and student achievement.
A newly launched publishing division set to distribute a 10-book series, Essentials for Achieving Rigor, along with books by internationally acclaimed education authors later this year.
Guest speakers include literacy experts Dr. Margarita Calderón, Senior Research Scientist at Johns Hopkins University, and Dr. Douglas Fisher, McGraw Hill literacy author and Professor of Language and Literacy Education at San Diego State University, who will lead in-depth discussions on implementing effective academic strategies for English language learners and teaching close reading of complex texts.
Learning Sciences CEO Michael Toth stresses that new pedagogical skills are crucial for teachers to meet new standards: "A vast compilation of data indicates that most educators are not adequately prepared to teach the higher-order thinking skills today's students need. Teachers, principals, and district leaders of all experience levels are looking for research-based strategies to help students develop the skills they need to meet rigorous college and career readiness standards. Our research team has worked diligently to gather and analyze data on current teacher pedagogy that we look forward to sharing at the conference."
In more than 70 individual breakout sessions, presenters will discuss topics such as unit planning, instructional coaching, creating scales and rubrics, and research-based methods to help today's learners meet state standards. In addition to the sessions, participants can visit the Educators Village for a series of panel discussions that encourage collaboration and innovation.
Focus sessions with Drs. Marzano, Calderón, and Fisher are expected to sell out well in advance. Early registration is recommended. Online registration for Building Expertise 2014 is open through Sunday, May 18, 2014. Discounts for groups are available.
Learning Sciences Marzano Center, located in West Palm Beach, Florida, provides next-generation teacher and leadership tools and training to promote growth and achievement in K-12 education. Built on a foundation of expert research, Marzano Center identifies, develops, and disseminates cutting-edge resources in educational best practices.
Dr. Robert J. Marzano is executive director of Learning Sciences Marzano Center for Teacher and Leader Evaluation. He is a nationally recognized researcher in education, speaker, trainer, and author of more than 30 books and 150 articles on topics such as instruction, assessment, writing and implementing standards, cognition, effective leadership, and school intervention.
To schedule interviews with Dr. Marzano, Michael Toth, or focus speakers Dr. Margarita Calderón and Dr. Douglas Fisher, contact James Hartnett, Vice President, Marketing, 717.845.6300, ext 151.
To reserve a press pass for the event, contact Maia Appleby at MAppleby(at)Learningsciences(dot)com.