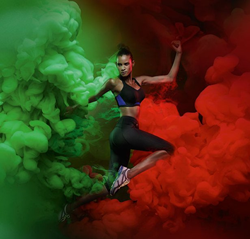 When it came to colour choice, black was a clear favourite, closely followed by white, then nude – with all three colours showing a 43% increase in sales.
Desborough, Northamptonshire, UK (PRWEB) April 30, 2014
Lingerie retailer Leia have revealed a substantial year-on-year increase in sales of one of its most popular sports brands. Freya Active produce sports underwear up to a K cup and have become one of the standout names at leialingerie.com.
In fact, the Freya Active sports collection enjoyed a sales boost of 41% compared to its performance on Leia's website in the same period last year. The retailer also stocks sportswear, lingerie and swimwear collections from an A to K cup from a number of other popular brands; including Freya lingerie, Fantasie, Elomi Goddess, Huit, Wacoal and B.tempt'd.
Leia went on to reveal that the most popular Freya Active sports bra ranges on their website were the underwired and soft cup wire-free styles. The wire-free option saw its sales increase by almost 20% year-on-year, while the Freya Active underwired sports bra was up by almost 40% compared to the same period last year.
When it came to colour choice, black was a clear favourite, closely followed by white, then nude – with all three colours showing a 43% increase in sales.
Freya Active's sports bras feature a non-compression design, meaning they provide great shape by separating, as well as lifting, the bust. Leia recommend that sports bra should be checked to make sure they offer the correct level of support for a given sport. For low impact, a soft cup sports bra is usually the appropriate choice. Meanwhile, for medium and high impact sports, an underwired sports bra can provide the necessary support and comfort.
Leia have also revealed that the newest addition to the Freya Active range, the underwired crop top sports bra, has performed well online for the retailer. Launched in January, the Freya Active crop top sports bra was part of the most comprehensive breast research study ever undertaken. Conducted by scientists at the University of Portsmouth, the study found that the new sports bra from Freya Active significantly reduces breast strain, pain and movement - minimising the risk of damage across the entire breast. The new Freya crop top sports bra was also praised by TV doctor, Pixie McKenna.
Nigel Addison from Leia Lingerie said, "It is great to see our sportswear collections are having such a positive impact with our customers. As a total the Freya Active brand and business for us has increased by around 70% against last year, so it's definitely a growing area for us compared to last year."
About Leia
Leia has over ninety years of lingerie design experience and aims to provide inspiring and affordable lingerie swimwear and sportswear, from an A to a K cup. Leia principally allow women to buy lingerie online via their retail website, but they also have boutiques in York and Cardiff, as well as Kent's Bluewater shopping centre. The Leia range featuring a wide choice of brands, including Freya, Fantasie, Fauve, Elomi and Huit, with ranges available from a 28" to 48" back. To find out more about Leia, visit http://www.leialingerie.com.