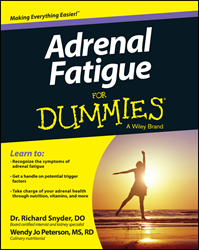 Adrenal Fatigue For Dummies is a comprehensive guide with expert advice and recommendations for maximizing adrenal health.
Indianapolis, IN (PRWEB) April 29, 2014
Adrenal fatigue can weaken the immune system, worsen inflammation, decrease sex drive and cause confusion and depression. But now there's hope with Adrenal Fatigue For Dummies (Wiley; February 2014; Paper and eBook formats: $22.99). Readers can take charge of their adrenal health with the nutrition suggestions, bioidentical adrenal hormone supplementation information and relaxation tips offered in this book.
Adrenal Fatigue For Dummies is a comprehensive guide with expert advice and recommendations for maximizing adrenal health. Readers will learn not only the structure and function of the adrenal gland, but also the best way to navigate a medical world where adrenal issues can be frequently overlooked or misunderstood.
The book demonstrates how to test for adrenal fatigue and connect food allergies with adrenal issues. Readers will learn the effect inflammation can have on their condition, as well as tips on vitamins, herbs and self-care practices that can help reduce symptoms and improve adrenal health.
For trusted information on how to make the right decisions about adrenal health, this authoritative guide will start readers on the right road. Adrenal Fatigue For Dummies is now available for purchase online and at retailers nationwide in both print and all e-book formats. For a full list of retailers, visit http://www.dummies.com/buy/9781118615805.
About the authors:
Richard Snyder, DO, is board certified in both internal medicine and Nephrology (the study of the function of diseases of the kidney). He is a Key Faculty member of the Graduate Medical Education in Internal Medicine group. Snyder is a contributing member of the American Osteopathic Association, the American College of Osteopathic Internists, and the Renal Physicians Association among other professional medical organizations. Dr Snyder has been a frequent guest on Your Health with Dr. Richard and Cindy Becker and is the Health Expert on About.com for both High blood Pressure and Adrenal Health.
Wendy Jo Peterson MS, RD (San Diego, CA) has over 10 years of experience working to enhance the nutrition and wellness of clients ranging from elite athletes to pediatric patients. Peterson is currently a culinary instructor within the Culinary Arts / Culinary Management program at Mesa College in San Diego.
Adrenal Fatigue For Dummies®
By Richard Snyder, DO and Wendy Jo Peterson MS, RD
Wiley / 978-1-118-61580-5 / February 2014
For more info, visit http://www.dummies.com
About For Dummies®:
After nearly 20 years and with more than 200 million copies printed, For Dummies is the world's bestselling reference series, well known for enriching people's lives by making knowledge accessible in a fun and easy way. Loyal customers around the globe agree that For Dummies is "more than a publishing phenomenon … [it is] a sign of the times," [The New York Times]. The books span every section of the bookstore, covering topics from health to history, music to math, sports to self-help, technology to travel and more. The For Dummies brand presence is further expanded with the addition of eBooks, a corporate custom publishing program, a robust consumer website and a licensed product line that includes consumer electronics, culinary, crafts, video, software, musical instrument packs, home improvement, automotive, game and more. For more information, visit Dummies.com. For Dummies is a branded imprint of Wiley.