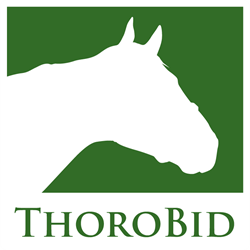 '...a fascinating concept' - Steve Byk 'At the Races' Sirius/XM
New York, NY (PRWEB) April 29, 2014
On Saturday, May 3, more than 100,000 horse lovers, sports fanatics, fashionistas and handicappers will flock to historic Churchill Downs in Louisville, Kentucky for the 140th running of the Kentucky Derby (G1). Many of these participants will place wagers on the race's outcome, thereby adding their individual opinions into a worldwide pari-mutuel pool that translates into post-time odds made available for public consumption just prior to the race.
But what if horseplayers could take a peek at those likely post-time odds up to 48 hours before the starting gate opens? What if handicappers could tap into the wisdom of the crowd, and get an early, defined sense of where public opinion stands on each of the competitors?
That concept—of presenting likely race odds in a futures-like pricing environment for horseplayers, based on financial industry practices—is the driving force of ThoroBid, a new open technology platform that is preparing to host its first-ever coverage of horse racing's Triple Crown season. Through the unprecedented use of crowdsourcing, horseplayers of all skill levels are making better informed handicapping decisions by harnessing ThoroBid's breakthrough technology to identify the optimal wagering opportunities to match their own personal desires for risk, volatility and reward.
Officially launched in November 2013 at https://thorobid.com, ThoroBid offers social networking, state-of-the-art analytical tools and proprietary communication and collaboration for the benefit of the largest sector of the sport: the 15 million people that comprise the Thoroughbred racing fan base in the U.S.
"We are new and still building our performance statistics, but early results suggest that ThoroBid top choices and second choices in the races we cover are outperforming in dollar terms relative to the betting public," said ThoroBid's co-founder and CEO Anthony Lage, a Kentucky native and Thoroughbred owner whose professional background as a member of the finance services industry inspired the creation of ThoroBid.
"Crowdsourcing is a technique that is being applied to many industries, such as medicine, entertainment and finance, to provide statistically more reliable data and help solve problems," Lage explained. "ThoroBid is applying this technique and a portfolio model approach to help its members make much better wagering decisions."
To celebrate the Kentucky Derby, ThoroBid has created a fun, simple way for racing fans to share the Derby spirit through a free, online "Derby Name Generator" at https://thorobid.com/derbynamegenerator. Like most ThoroBid services, the game is free.
For more information about ThoroBid, please visit https://thorobid.com.
For More Information, Contact:
Anthony Lage, Co-Founder & CEO
Phone: (917) 940-0788
Email: info(at)thorobid(dot)com