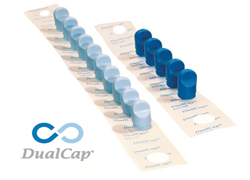 We are pleased the Court recognized our effort and investment in research and development to create innovative solutions to pressing patient safety problems. - Guy Jordan, PhD, Chairman and CEO
Salt Lake City, UT (PRWEB) April 29, 2014
Catheter Connections, a leading developer of medical devices for the prevention of catheter-related bloodstream infections, announced today that it won its motion for a preliminary injunction against Ivera Medical Corporation ("Ivera") for its accused Curos Tips™ ("Tips"), a medical device for the disinfection and protection of male luers used to connect IVs (United States Court District of Utah, Central Division, Case No. 2:14-cv-00070-TC). Tips will no longer be available.
Tips competes with Catheter Connections' DualCap®, which is part of the DualCap System™ family of caps filled with 70% isopropyl alcohol for the disinfection and protection of male luers and luer access valves. Until the introduction of DualCap®, there was no reliably safe or effective way to disinfect male luers. This left patients at risk for serious and deadly bloodstream infections caused by contaminated IVs. DualCap® completely blocks toxic disinfectant from entering male luers which is unlike Tips that allows disinfectant to enter male luers.
The preliminary injunction prohibits Ivera, and other persons who are in active concert or participation with Ivera, who receive actual notice of the Court's order from making, using, selling, offering for sale or importing into the United States Tips, or any device no more than colorably different from Tips, until there is a final judgment in the lawsuit. The Court held: "Catheter Connections has met its burden of establishing likelihood of success on the merits of its claims" that Ivera "infringed claims" in two of Catheter Connections' U.S. Patents. With the preliminary injunction in place and the accused Tips no longer available, Catheter Connections is the only company offering a product for disinfection and protection of male luers.
"Patient safety is our main concern," said Guy Jordan, PhD, Catheter Connections' Chairman and CEO, "and developing a safe and effective medical device that meets FDA guidelines takes significant time and investment. We are pleased the Court recognized our effort and investment in research and development to create innovative solutions to pressing patient safety problems. By protecting our patent rights the Court supports innovation and disincentivises imitation."
"Catheter Connections is committed to help protect patients from contaminated IV connectors. DualCap® is now the only product available that disinfects and protects male luers."
About Catheter Connections®
Headquartered in Salt Lake City, Utah, Catheter Connections, Inc., develops and commercializes innovative vascular access products designed to protect patients from acquiring infections during intravenous infusion therapy. Its DualCap System™ is a family of user-friendly products that provides healthcare facilities with a cost-effective, integrated solution for IV disinfection and protection, helping in the fight against IV catheter-related blood stream infections. Designed by nurses for nurses, flagship product DualCap® safely disinfects both IV tubing end connectors and IV catheter access valves — a major breakthrough for infection control. For more information, visit http://www.catheterconnections.com.
Contact:
Vicki Farrar
Founder, President and COO
Catheter Connections, Inc.
888.706.8883
info(at)cathconn(dot)com