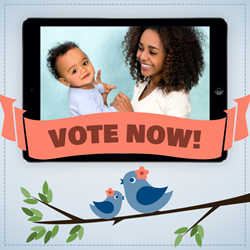 Voting is Now Open for the Charter College Mother's Day Contest
Anchorage, AK (PRWEB) May 01, 2014
The Charter College Mother's Day Photo Contest is now open for public voting. Members of the Charter College community submitted photos and captions describing the powerful impact motherhood has on their education. Students, graduates, and even those just starting out on their Charter College journey were able to submit photos and captions through Facebook, Twitter, and Instagram describing how motherhood has had an impact on their education. Moms and soon-to-be mothers described how important they feel it is to be good role models to their children –and how education will do just that. Other contestants shared pictures of their mothers and grandmothers and told stories about some wonderful women who have made a difference in their lives.
The Charter College Mother's Day contest generated a great response and now it's time to choose a winner.
Anyone can vote! Just go to the Charter College page on Facebook and:

'Like' the Charter College Page on Facebook
Click on the "Photo Contest" tab and click "View Entries"
To vote for your favorite photo, simply click the "Vote" button
You can vote up to once a day through Thursday, May 8th at 11:59 PM PST
The contest generated more than 80 submissions from Charter College campuses across California, Washingtonn and Alaska and now it's time for the vote. The submission that receives the most votes will win an iPad and top vote getters from each campus will receive a $100 gift card.
Winners will be announced via the Charter College pages on Facebook, Twitter and Instagram on Friday, May 9th, just in time for Mother's Day.
Charter College offers career-focused education in the fields of health care, business, law, criminal justice, information technology, and some trade careers. The school has campuses throughout California, Alaska, and Washington State. If you would like to learn more about the programs offered at Charter College, please visit http://www.chartercollege.edu or call 800-200-9942.