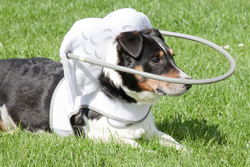 (PRWEB UK) 30 April 2014
Blind dogs have an obvious problem of bumping into objects and therefore injuring themselves. Muffins Halo is an ingenious new invention to help blind dogs by letting them feel an object and therefore avoid it.
The dog wears an adjustable harness with a padded pillow over the shoulders. A semi-circular, light weight tubular metal "Halo" fits into the pillow and juts out in front of the dog. It is designed to be slightly longer and wider than the dog and when the Halo touches an object the dog feels pressure on its' shoulders and learns to turn away.
Silvie Bordeaux lives in the USA. She invented this device when her dog Muffin went blind due to cataracts. He was bumping into things which gave him cuts and bruises. He became depressed and withdrawn as he was scared to move around. Silvie explained, "It only takes a few minutes for them to get used to it. They like it. They feel cuddled by the harness, and protected by the Halo which makes them less anxious. It's like they are super heroes getting their super powers back!"
A dog wearing a Halo attracts a lot of positive attention to itself and this takes away some of the stigma and uncertainty that people feel about approaching a blind dog.
The first dog in the UK to be fitted with a Muffins Halo is Basil, a 4 years old terrier who is in the care of West Yorkshire Dog Rescue (http://www.westyorkshiredogrescue.co.uk). Basil was rescued from the Stray Dog Pound and is in foster with a family who live on a small holding.
Yvonne who fosters Basil in Lincolnshire was very worried about him as he is still a young, active dog who loves to run around outside. This led to him bumping into objects at speed and becoming lame. Basil is now very happy to wear a Muffins Halo and he can now live life to the full.
Basil is a very affectionate, intelligent dog with a lot of love to give. He is a confident outgoing boy who gets on very well with other dogs of all shapes and sizes. West Yorkshire Dog Rescue are looking to rehome him with another confident playful dog as a companion. Basil loves human company but can be left for short periods. Basil has adapted very well to his sight loss and is otherwise fit, healthy, full of fun and loves to play.