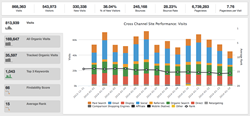 Every company with a website is virtually a global company now, but even brands that are just evaluating the Chinese market will find our search insights from So.com, Baidu and Sogu valuable. - Ray Grieselhuber, CEO & Founder
San Francisco, CA (PRWEB) April 29, 2014
GinzaMetrics, leading enterprise search and content marketing platform, continues to grow its offering for global brands today by expanding mobile search insights and enabling support for China's Qihoo 360 search engine. GinzaMetrics will be the only platform available capable of mobile insights delivered daily, as well as delivering analytics across three major Chinese search engines, Qihoo 360, Baidu, and Sogou.
Mobile devices accounted for 31 percent of all organic search visits in the United States during the month of January 2014, up from 24 percent in 2013, according to RKG's Digital Marketing 2014 Q1 report. In response to this continued growth, GinzaMetrics' mobile search engine rankings has been released to help marketers stay apprised of the latest trends across the most popular devices and search engines.
Starting today, only GinzaMetrics users can see mobile search rankings by search engine for iPhone and iPad traffic at a daily granularity, which RKG's research also shows as the dominate devices using mobile search. The company plans to provide search rankings for Android devices later in Q2.
GinzaMetrics users can now also track organic search, social and content for their website(s) with insights from Qihoo 360 Technology's search engine, So.com. The search engine has rapidly gained popularity since launching in 2013, and according to a TechInAsia.com report, So.com has reached almost 23 percent market share among China's search engines. In January, Qihoo president Qi Xiangdong's was quoted as saying that the company aims to reach 35 percent market share by the end of 2014.
So.com is the third Chinese search engine supported by GinzaMetrics, which added support for Baidu and Sogu in May 2013 in response to growing Chinese e-commerce and web-based businesses, as well as the globalization of enterprise companies seeking relevancy in the country.
"We've been closely monitoring the meteoric rise of So.com since it launched last year, and we are pleased to offer data and insights to our Chinese customers as well as companies with a presence in China," said Ray Grieselhuber, GinzaMetrics Founder and CEO. "Every company with a website is virtually a global company now, but even brands that are just evaluating the Chinese market will find our search insights from So.com, Baidu and Sogu valuable."
Finally, GinzaMetrics is also making it easier for users to target multiple markets from a single site. Users can choose from over 200 country, language and device options in order to ensure comprehensive monitoring across every market for which they have content. This update makes it easier for users in charge of search and content in multiple global markets to see search and content insights in one dashboard.
ABOUT GINZAMETRICS
GinzaMetrics is an enterprise SaaS SEO and content marketing platform. Launched in 2010, GinzaMetrics provides actionable recommendations and analytics to enterprise and agency customers in more than 120 countries and 55 languages around the world. GinzaMetrics is the only solution that provides daily crawls of major search engines including Google, Yahoo!, Bing, Baidu, Sogou, 360 and Yandex. The complete platform delivers competitor insights, keyword and page analysis, link data, recommendations, custom dashboards and reporting. To learn more or get a free 14-day trial, visit ginzametrics.com.