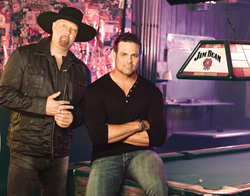 There's definitely going to be a lot of energy at this show
Petersburg, W.VA (PRWEB) April 28, 2014
Popular Country music duo Montgomery Gentry will headline the annual Tri-County Fair. Montgomery Gentry will play Tuesday, July 29 in Petersburg, West Virginia.
Tickets will go on sale May 1, 2014 and are available at Tri-CountyFairWV.com or at the South Side Depot in Petersburg, West Virginia.
Born and raised in Kentucky, the duo has produced more than twenty chart singles on the Billboard Hot County Songs charts, include five number one hits. Ten more of the duo's songs have charted in the top ten on country charts including the most played song by a duo in 2005 "Gone". Three of the duo's albums have been certified platinum – Tattoos & Scars (1999), My Town (2002), and You Do Your Thing (2004). Both the CMA and ACM nominated Montgomery Gentry every year between 2000 and 2009 for "Duo of the Year" awards and the album Back When I Knew It All (2008) was nominated by the ACM for Album of the Year.
The fair, a collaborative effort between Hardy, Grant and Pendleton Counties will be held from July 27 through August 2. Event organizers say there are only 3,000 tickets available for those hoping to catch the Montgomery Gentry show.
"There's already a lot of excitement about Montgomery Gentry playing in Petersburg," says Fair Spokesperson Dean Alanko. "We know there are a lot of fans of their type of music, a blend between traditional country and a little southern rock. There's definitely going to be a lot of energy at this show". Alanko also added that fair organizers are grateful to the show sponsor, Hott Insurance and Erie Insurance
About The Tri-County Fair:
The Tri-County Fair is held each year in Petersburg, West Virginia in collaboration between Hardy, Grant and Pendleton County, and is just over a two hour drive from Washington D.C. and Baltimore, Maryland. The fair features local and national musical entertainment, a carnival, exhibits, a thirty-two team cornhole tournament, antique tractor pull and more. For more information, visit Tri-CountyFairWV.com, visit the South Side Depot in Petersburg, West Virginia.
Media Contact:
Salle Mickey
Platinum PR
salle(at)platinumpr(dot)com
304-876-8321