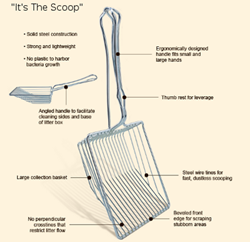 (PRWEB UK) 30 April 2014
'It's the Scoop' is an innovative new scoop designed to make cleaning the cat litter tray easier and quicker. It has been developed to make the process virtually dust free.
'It's the Scoop' by K Kat was developed by Marie Glover who runs Tabby Town USA Inc, a non profit, no kill rescue. The rescue has 50-80 cats in their care at any one time. Marie wanted to make cleaning litter trays an easier and quicker job. The K Kat innovative 'It's the Scoop' was developed to do just that.
With a traditional scoop it needs to be shaken several times to separate the waste and dust flies into the air. 'It's the Scoop' just requires the scoop to be lifted and the large basket holds the waste.
The scoop has a solid steel construction and is lightweight and durable. The scoop also features an ergonomically designed handle with thumb rest to fits all size hands. The scoop is solid but lightweight and can therefore be used by everyone. The handle is also angled to facilitate cleaning the sides and base.
The scoop was specifically designed so that there is no plastic to harbour bacterial growth. It is strong and lasts when used daily. It is particularly useful in multi-cat households where there are lots of litter trays. It has also been tested and approved by those with indoor cats where litter trays need to be cleaned regularly.
The deep wide basket is angled up at the back thereby enabling it to easily turn the corners in the litter tray. The basket also allows for less movements when cleaning the entire cat litter tray. Steel wire tines facilitate fast dustless scooping. The design does not include perpendicular cross tines that restrict litter flow.
There is a bevelled front edge for scraping stubborn areas. The steel construction ensures that the scoop does not bend or break when scraping. It is also designed so that it does not damage the bottom of the litter tray when scraping.
'It's the Scoop' is being used by catteries and cat rescue centres across the US. It is also used by groomers and cat care professionals to make cleaning the litter tray quicker and cleaner and a lot easier.
CoolforcatsUK recently reviewed the scoop in an indoor multi- cat household and was really impressed with it http://coolforcatsuk.com/http:/coolforcatsuk.com/giveaway-win-the-litter-scoop-that-changed-my-life).
K Kat have teamed up with The Pet Business to distribute their products in the UK. They have lots of exciting new products that will be launched in the next few month.