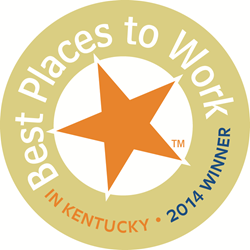 Lexington, KY (PRWEB) April 29, 2014
On April 24, Tenmast Software was recognized as one of the Best Places to Work in Kentucky for the fifth time. We are proud to announce being named the 4th Best Place to Work in Kentucky in the small company category (between 15-149 U.S. Employees) in 2014. This honor, given by the Kentucky Chamber of Commerce, the Kentucky Society for Human Resource Management (KYSHRM) and Best Companies Group, is awarded to only a select few businesses statewide. Tenmast has been recognized as being a top place to work five times:

2008 – #22 (Small to Medium Category)
2010 – #25 (Small to Medium Category)
2012 – #3 (Small to Medium Category)
2013 – #5 (Small to Medium Category)
2014 – #4 (Small Category)
Staff from Tenmast attended the tenth annual awards ceremony at Heritage Hall in the Lexington Convention Center. More than 1,300 attendees joined in the celebration of Kentucky companies who were recognized for their extraordinary efforts in setting the standard of excellence for employee engagement, a positive working environment and business success.
Conceived in 2004, the Best Places to Work initiative is dedicated to identifying, recognizing and celebrating Kentucky's best employers. The goal is to raise the bar among employers, creating excellence and employee satisfaction in the workplace, thereby attracting talented people for years to come. Winners were selected from three categories – small (15-149 U.S. employees), medium (150-499 U.S. employees), and large (500 or more U.S. employees) companies. The selection process is based on an assessment of the company's employee policies and procedures and the results of an internal employee survey, administrated by Best Companies Group.
What does this mean for Tenmast clients? Research has shown companies that are ranked as Best Places to Work in Kentucky have:
Higher employee morale
Enhanced retention and employee loyalty
More productive employees
More and better job applicants
Better customer service
The ability to manage their way through tough times
This designation means Tenmast is well equipped to deliver quality software and outstanding customer service, the hallmarks of Tenmast Software. We look forward to showing you why we are one of the Best Places to Work in Kentucky.
-------------------------------
Tenmast Software is located in Lexington, KY. Founded in 1984, Tenmast serves Public Housing Authorities & Affordable Housing Organizations with software for Tenant Management, Finance/Accounting, Maintenance, Inspections, Document Management, Compliance, and Executive Decision Making. For more information about Tenmast, visit http://www.tenmast.com.