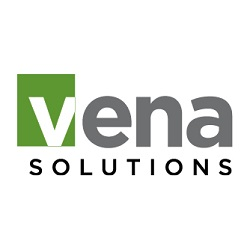 Heading into Q2 2014, we are building on the momentum we gained in 2013 and Q1 of this year - a time period that saw us more than double our sales through both direct and partner-based sales activity." -Don Mal, CEO of Vena Solutions
Toronto, Ontario (PRWEB) April 28, 2014
Vena Solutions, an innovative provider of corporate performance management software, is entering its most successful quarter to date.
The company marked the beginning of 2014 by signing the ATL Hawks, LLC, owners of the NBA Atlanta Hawks and operators of Philips Arena and Tarbagatay Munay, an oil and gas exploration and development company based in Kazakhstan, strengthening the company's presence in the sports and energy sectors.
Vena also struck numerous reseller, referral, and OEM partnerships with companies in the mining and healthcare sectors.
Don Mal, CEO of Vena Solutions, explains, "Vena is about to enter our strongest quarter ever. Heading into Q2 2014, we are building on the momentum we gained in 2013 and Q1 of this year - a time period that saw us more than double our sales through both direct and partner-based sales activity."
Vena's unique approach to corporate performance management, low total cost of ownership and ability to drive true business value have enabled the company to sign several industry-leading clients in 2013 and strike OEM agreements with a healthcare firm in the U.S. and two large South African technology services companies, Zetta™ and PaCE Services.
Overall, Vena tripled the number of clients in 2013 from 2012 and fully anticipates more than doubling client acquisition and revenue in 2014. Q1 2014 saw Vena book more than twice the number of sales and clients than they did in Q1 2013. Furthermore, 80% of Q1 2014 license transactions are subscription-based.
In addition, Q1 2014 saw Vena sign half a dozen reseller and referral partnerships and numerous implementation partnerships. The company is committed to expanding their global partner network in 2014, with the aim of introducing their products into far- reaching markets and developing more specialized vertical industry solutions.
Vena Solutions is confident that their successful approach to corporate performance management will continue to appeal to organizations around the world that are facing increasing pressure to meet strict reporting requirements and produce accurate budgets, plans, and forecasts to satisfy their investors and wide client bases.
About Vena Solutions:
Vena Solutions is a unique, web-based application that dramatically enhances the operational efficiency of mission-critical finance and accounting processes by combining organizations' existing investments in Microsoft Excel® with the power, security, and control of an enterprise-scale solution.
For more information about the Atlanta Hawks, please visit http://www.hawks.com