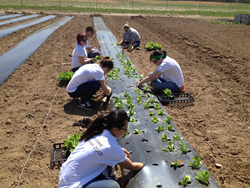 We are dedicated to the city of Cincinnati, and our associates are honored to be a part of Hyatt's global volunteer initiative, working with Freestore Foodbank Giving Fields
Cincinnati, OH (PRWEB) April 29, 2014
In recognition of Hyatt's global corporate responsibility platform, Thrive, Downtown Cincinnati's Hyatt Regency Hotel supported the community by engaging in a volunteer day with the Freestore Foodbank's Giving Fields. On Tuesday, April 22, Hyatt associates were on hand to plant, water, maintain & harvest fresh produce at the community farm in Melbourne Kentucky. The Giving Fields grows fresh fruits and vegetables for some of the Freestore Foodbank's community partner agencies in Northern Kentucky.
Volunteer days like this one are a key tenet of Hyatt Thrive and part of Hyatt's global volunteer initiative, which brings Hyatt associates from around the world together in a common effort to volunteer in the communities where they call home.
Hyatt Thrive empowers over 85,000 Hyatt associates at more than 450 properties around the world to help communities do one thing – Thrive – by focusing on four areas: environmental sustainability; economic development and investment; education and personal advancement; and health and wellness.
"We are dedicated to the city of Cincinnati, and our associates are honored to be a part of Hyatt's global volunteer initiative, working with Freestore Foodbank Giving Fields," Bruce Flyer, General Manager, Hyatt Regency Cincinnati. "Hyatt Thrive is a natural extension of Hyatt's mission, which is to provide authentic hospitality by making a difference in the lives of people we come in contact with every day."
The volunteer work also coincides with a long-standing tradition of celebrating Hyatt associates around the world. Celebrating community and its people is a global demonstration of Hyatt's dedication to thriving communities where associates live and work.
To learn more about Hyatt Corporate Responsibility programs, visit http://www.hyattthrive.com.
About Hyatt Regency Cincinnati
Hyatt Regency Cincinnati, a 491 guest room hotel, offers a variety of guestrooms, including a Presidential Suite, Thrive Suite and twelve VIP suites. All of Hyatt Regency Cincinnati's guestrooms feature pillow-top Hyatt Grand Beds™, iHome alarm clocks and large workstations with high-speed wireless internet access. Dining options at Hyatt Regency Cincinnati include Red Roost Tavern and a Market. For more information visit: http://www.cincinnati.hyatt.com or call: 513-579-1234.
About Hyatt Regency
Hyatt Regency offers a full range of services and facilities tailored to serve the needs of meeting planners, business travelers and leisure guests. Properties range in size from 180 to over 2,000 rooms and are conveniently located in urban, suburban, airport, convention and resort destinations around the world. Hyatt Regency convention hotels feature spacious meeting and conference facilities designed to provide a productive environment allowing guests to convene and connect. Hyatt Regency hotels in resort locations cater to couples seeking a getaway, families enjoying a vacation together and corporate groups seeking a functional and relaxed atmosphere in which to conduct business and meetings.
About the Freestore Foodbank
The Freestore Foodbank is the largest emergency food and services provider to children and families in the Tri-State. The organization distributes more than 18.5 million meals annually to more than 300,000 low-income individuals and families. The Freestore Foodbank supports more than 275 community partners in 20 counties throughout Kentucky, Ohio and Indiana, including food kitchens, homeless shelters, emergency food pantries and social service centers. By providing emergency food distribution, the Freestore Foodbank responds to the issue of poverty and food insecurity in our community and provides an array of services (emergency clothing, housing services, SNAP assistance, Medicaid outreach and others) aimed at creating self-reliance. The Freestore Foodbank is a charter member of Feeding America. Visit http://www.freestorefoodbank.org for more information.