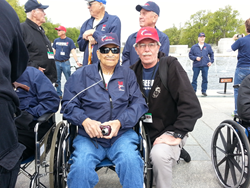 'The outpouring of appreciation by the general public is amazing in Washington, D.C.' -Dennis Waldron, Avitus Group Risk Assessment Specialist & U.S. Marine Corps Veteran
Billings, Montana (PRWEB) April 28, 2014
"The outpouring of appreciation by the general public is amazing in Washington, D.C.. They lined up to shake their hands, and I know when we arrive back in Billings at the airport there will be a similar outpouring," said Dennis Waldron, Avitus Group Risk Assessment Specialist & U.S. Marine Corps Veteran. "At the Billings airport on previous honor flights, I've stood in awe with tears in my eyes as I watched an ever grateful generation appreciate the welcome home many of them did not get but certainly deserved. I know some that have passed since their flight and it's what they talked about until their dying breath."
75 Montana WWII veterans are in Washington, D.C. this week to see their memorial. Along for the trip is Avitus Group Risk Assessment Specialist and U.S. Marine Corps veteran, Dennis Waldron. Dennis is volunteering for the Big Sky Honor Flight, helping those WWII veterans who do not have a family escort. Dennis has spent a good portion of the trip with Robert Harrison, a fellow U.S. Marine Corps veteran from Ennis, Montana. Waldron worked in a classified seal in the U.S. Marine Corps with a Naval security group that was attached to the NSA. His rank was USMC, GySgt and he has 12 years of military service. His dad was involved with WWII. His uncle was in WWII, the Korean War and was killed in action in Vietnam.
The Big Sky Honor Flight is a whirlwind, overnight trip to Washington, D.C. Highlights on the tour include the National WWII Memorial, the Lincoln Memorial, the Korean War Veterans Memorial, the Vietnam Veterans Memorial and Arlington National Cemetery.
The 9th and final Big Sky Honor Flight takes off May 11th, and there are already plans in the works for Honor Flight Korea, to honor Korean War Veterans from Montana and give them the opportunity to see their memorial in Washington, D.C. at no cost to them, similar to the Big Sky Honor Flight.
"The WWII registry is dying off very quickly. These ladies and gentleman are in their 80's and 90's. There are more Korean veterans out there now than probably WWII veterans, but even at that point, those people are starting to die. They are up in age. Here I am from the Vietnam era and I'm 65 years old. We're all going to meet that end and we all know it. To give these guys a chance to go see their memorial before they pass is a wonderful opportunity." -Dennis Waldron, Avitus Group Risk Assessment Specialist & U.S. Marine Corps Veteran
Avitus Group's Donations have sent three WWII veterans to D.C. to see their memorial as well as an employee volunteer to help on the flight. Avitus Group also created the Big Sky Honor Flight Business Challenge to challenge other Montana businesses to send a WWII veteran to D.C. as well.
"Avitus Group has always been a proud supporter of the Big Sky Honor Flight, and we're planning on supporting Honor Flight Korea as well. It is something our entire staff can get behind. We all enjoy the welcome home ceremonies at the airport. It is a great opportunity to shake a WWII veteran's hand and tell them thank you for their service." -Dianne Parker, Avitus Group Public Relations Manager.
"It's amazing how Avitus group stepped up to the plate right away to help and honor these veterans. To be working for a company that takes that type of pride in the community and for the state of Montana is really an awesome pleasure. I'm proud to say Avitus Group supports the Honor Flights." -Dennis Waldron, Avitus Group Risk Assessment Specialist & U.S. Marine Corps Veteran