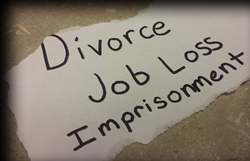 Chicago, IL (PRWEB) April 29, 2014
American Homeowner Preservation ("AHP") utilizes real estate crowdfunding to pull struggling homeowners like Sarah from the depths of foreclosure and ease their financial burdens. Sarah lost her job in 2004, and as a single mother with mouths to feed and bills to pay, she found it very difficult to survive. Her situation became desperate, and in 2006, Sarah was sentenced to 22 months in a women's correctional facility.
Sarah and her husband were first time homebuyers in 1982, but they eventually divorced and Sarah kept the home. She struggled as a single parent and had trouble paying her mortgage. "It was hard, I had to let go of a lot of things. I had to let go of my vehicle and try to get a cheaper one; a used one. I had to borrow from my retirement to try to make ends meet, and when I lost my job-- that didn't help," Sarah said.
When Sarah was incarcerated, her ex-husband rented out her home. Upon her release in 2008, Sarah discovered that the tenants had fallen behind on their payments. As a result, once she moved back in the home, she picked up right where left off before: playing catch-up on her mortgage.
Sarah was met with further challenges after her release and found it difficult to get back on her feet. She was required to pay restitution as a result of her actions that led to imprisonment, but also had to make payments on the home. Things became even harder when her mother passed away and her children moved back in with her.
The mortgage on Sarah's home passed through many different lenders over the years and eventually was sold to AHP. Once Sarah found out she could settle over a year's worth of delinquent payments and stop foreclosure -for $2,500, she did everything she could to come up with the money. "I borrowed, I scraped, worked overtime, on the weekends, helped clean houses."
"I pray to God to help me and, he does. And that's all I have to fall back on is God, and he comes through for me every time," Sarah said. "I know this time I just can't let this go by, I'm trying to get everything together like I need to and stay on track with everything."
AHP purchases pools of distressed mortgages from banks and other lenders at significant discounts. Once these pools are purchased, AHP works with homeowners like Sarah to modify payments and find other viable solutions to keep families in their homes. AHP investors earn 9-12% returns and have a profound social impact by assisting homeowners across the country.
American Homeowner Preservation started in 2008 as a 501c3 nonprofit before transitioning to for profit and evolving into a socially responsible hedge fund. AHP recently added crowdfunding, offering 9 – 12% annual returns to investors. To learn more about AHP, visit https://ahpinvest.com, call 800-555-1055 or email info(at)ahpinvest(dot)com.