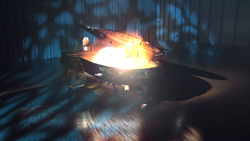 Buenos Aires, Argentina (PRWEB) April 30, 2014
How do you grab social network users' attention while celebrating action movies? Create a fictitious awards show, and sparks – and much more – will fly.
And they did. Loudly.
SuperEstudio provided the graphic content for Space TV's Space Awards, a campaign that ran for 14 days on Facebook. Geared to launch the channel's new digital platform, Space Go, the run included a tribute to all things that make action movies compelling. No, not the stars or directors of the films, but the explosions, blood-curdling screams and gnarly weapons. "Best Improvised Weapon," "Best Creative Death" and "Best Horror Scream" were just three of the hair-raising categories.
With tongue firmly in cheek, the launch spot showed a grand piano exploding in flaming fashion while being played by a tuxedo-clad musician. Another promo, shown during the Academy Awards, showed clips of action stars Jackie Chan, Russell Crowe, Woody Harrelson and more followed by quick teasers of the categories.
Said Jose Leyton, Creative Director for Turner International's Injaus Ads, "Space decided to recognize the characters who give their lives for the good of mankind, those who survive explosions and are able to park a car on a moving train. For example, in the category 'Best Words Before Killing,' one of the nominees is the official Marion "Cobra " Cobretti and not Sylvester Stallone.
Ezequiel Rormoser, Creative & Executive Director of SuperEstudio, said about the project, "Mixing elements of action films in the form of awards was a very rich and eye-catching way to get the audience's attention."
SUPERESTUDIO is an Animation and Design company in Buenos Aires that develops innovative and strategic brand identities, promos, show packaging, commercials and audiovisual productions. Specializing in motion and design, SuperEstudio's team of directors, designers and animators have been pushing creative boundaries since 2002.
About Be Creative Management
BCM is dedicated to brilliant communications for entertainment, media, advertising, and consumer brands worldwide. Based in New York and Los Angeles, BCM represents top creative agencies that transform strategy into engagement.